Louis Moinet has lit up the 2014 Doha Jewellery and Watches Exhibition with the launching of its new QATAR Tourbillon. The QATAR Tourbillon presents two fragments of the one and only meteorite ever found in Qatar, finely inlaid into a hand-engraved dial depicting two bent swords and sand dunes, a tribute to Qatar.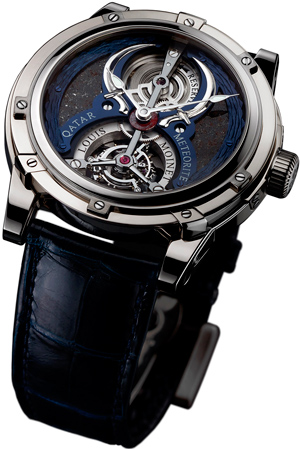 Louis Moinet Qatar Tourbillon watch
According to the Meteoritical Society, the meteorite's official name is Qatar 001. It originated from the asteroid belt situated between the orbits of Mars and Jupiter, and travelled more than 260 million kilometres before landing in the area of Jariyan al Batnah. Luc Labenne, the highly-regarded meteorite hunter of international renown, says of it: "It is a chondrite type H5, very rich in metal and showing visible chondrules – distinctive round grains."
This is a world first and an exclusive model, since no other meteorite has ever been found in Qatar. Louis Moinet has acquired this precious meteorite to turn it into horological art.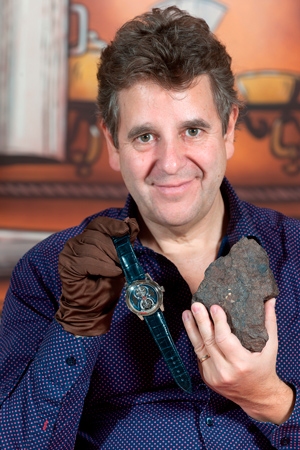 Mr. Schaller with meteorite Qatar 001
Jean-Marie Schaller, Louis Moinet CEO and Creative Director, says: "Louis Moinet is one of the most important names in watchmaking and we are especially proud to pay a tribute to the State of Qatar, through the purest art of watchmaking.
"The Qatar Tourbillon features the essence of this wonderful Middle Eastern country: A hand-engraved applique around the periphery of the dial, depicting sand dunes, and two Qatari bent swords. It also features the oldest known fossil on earth, three-billion-year-old red stromatolite, which is found in the centre of the dial, between the tourbillon at 6 o'clock and the visible mainspring at 12 o'clock."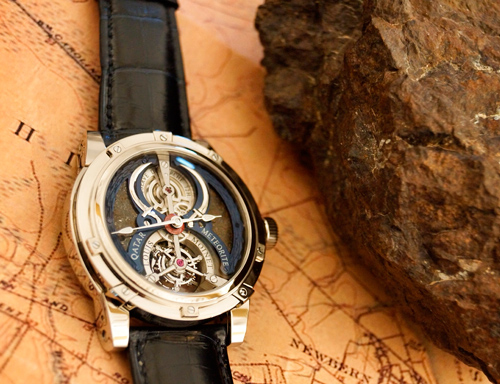 Louis Moinet Qatar Tourbillon watch
The QATAR Tourbillon is presented in an exceptional 18K white gold case composed of 59 different components and equipped with the Louis Moinet signature crown guard. The latter invention consists of an independent stem integrated within a watertight system and held with a plate secured by four screws. It represents a major advantage in facilitating servicing, compared to traditionally soldered stems.
The view through the QATAR Tourbillon display-back is almost as spectacular as the dial side, with the 'octopus spring' of the winding and setting mechanism taking centre stage. This ingenious component is effectively three springs in one – pull-out piece spring, lever spring and click spring – all radiating from the centre like the swirling legs of an octopus. The movement plate is engraved with Louis Moinet's "Côtes du Jura" motif.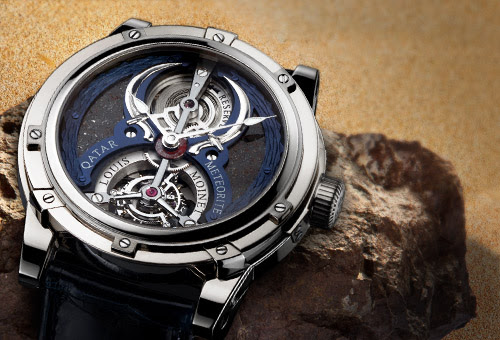 Louis Moinet Qatar Tourbillon watch
Louis Moinet has been exhibiting at Al Fardan's booth during this, the 10th edition of the Doha Jewellery and Watches Exhibition. The event, which runs through March 2nd, marks the start of Louis Moinet's partnership with Al Fardan, one of the most prestigious watch and jewellery retailers in the region.
The QATAR Tourbillon is available in an exclusive limited edition of 12 pieces.
Technical specifications
Features and functions
Qatar meteorite 001, finely inlaid into a hand-engraved dial
Exclusive tourbillon escapement
Central hour and minutes

Movement
Winding Manual
Mechanism visible through the case-back with "octopus" spring
Oscillations 21,600 vph
Frequency 3 Hz
Lines 14 ½
Power reserve 72 hours
Tourbillon cage One full rotation every 60 seconds
Jewels 19
Escapement Side lever
Decoration "Côtes du Jura" ® engraving, blued steel screws
Case
Original design by Louis Moinet®, made up of 59 parts
Material 18K white gold
Case diameter 47 mm
Water-resistance 30 metres
Caseback Secured with 6 screws, engraved with individual number and Louis Moinet markings
Crystals Two anti-reflective sapphire crystals
Dial
Hand-engraved dial depicting two bent swords and sand dunes, set with Qatar meteorite 001
Strap
Strap Louisiana alligator leather, hand-sewn, width between lugs : 24 mm
Buckle 18K white gold & black titanium folding clasp with Louis Moinet symbol


Presentation box Extra large Louis Moinet Book, hand-written warranty
Rarity Limited Edition of 12 pieces
Reference no. LM-14.70.21
Official site of Louis Moinet.
Press release
13.03.2014