| | |
| --- | --- |
| The world`s largest Louis Vuitton bag on the Red Square | |
In Moscow, on the Red Square, the famous company Louis Vuitton has collected a large bag before opening the exhibition dedicated to the famous Parisian fashion brand.
The exhibition, entitled "L`Ame du Voyage", which will be held from 2 to 19 January 2014, will be devoted to such celebrities as: Karen Blixen, Pierre de Brazza Savorgnan, Sofia Coppola, Catherine Deneuve, Isadora Duncan, Empress Eugenie, Greta Garbo, Ernest Hemingway and many others. Revenues from the exhibition will go to the "Naked Heart" Save the Children Fund, which was founded by model Natalia Vodianova.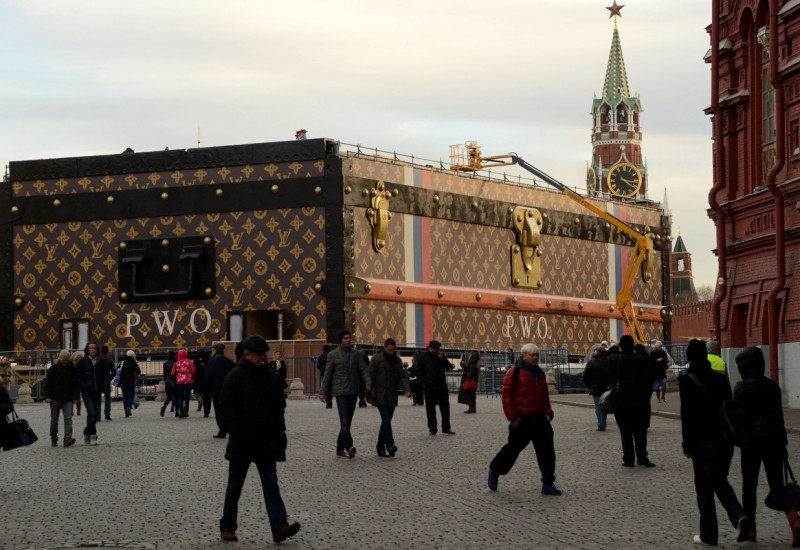 The world`s largest Louis Vuitton bag on the Red Square
The exhibition aims to introduce visitors to the most important value of the house Louis Vuitton. The exhibition tells about the evolution of the unique Louis Vuitton trunks and on the relationship between travelers and legendary artists - creators of their luggage.
The pavilion, which is designed as a dower chest, is presented 25 historical and 12 video installations created by contemporary artists. The original bag, visited different times and cities around the world, is ready to present the amazing story about the lives of their owners.
Official site of Louis Vuitton.
Written by Angel
28.11.2013
Watch brands: the desire for uniqueness
Many watch brands are eager to satisfy any whim of fans, putting their uncontrolled and sometimes "wild" imagination in their own watches, be it dial or complication.
28.02.14 Comments(0)

BaselWorld 2013: Tambour Twin Chrono by Louis Vuitton
At the international exhibition of watches and jewelry BaselWorld 2013, the known company Louis Vuitton has introduced a new limited edition watch Tambour Twin Chrono, intended primarily for the measurement of time intervals during a match race.
14.06.13 Comments(0)

BaselWorld 2013: Tambour eVolution GMT steel by Louis Vuitton
Known company Louis Vuitton at the annual exhibition of watches and jewelry BaselWorld 2013 has unveiled a novelty Tambour eVolution GMT steel, for the producing of which is used an innovative black metal composite MMC (Metal Matrix Composite), which is mainly used in the aerospace industry.
10.05.13 Comments(0)

Blue Novelty by Louis Vuitton
The famous fashion house Louis Vuitton introduces a new diver's watch, which is included in the Tambour collection. The model's characteristic feature is in the form of a drum cases.
17.09.12 Comments(0)

Louis Vuitton Tambour by Yayoi Kusama Watch in Peas
The fashion house Louis Vuitton has introduced a new line of limited edition watches Louis Vuitton Tambour by Yayoi Kusama, in the design of which is used drawing in a large pea. Large polka dots are a trademark of Japanese artist Yayoi Kusama, in conjunction with whom a novelty is established.
30.07.12 Comments(0)

New Louis Vuitton Tambour Flyback Watch
The new watch, recently presented by the company Louis Vuitton, is remarkable with a look, reminiscent of aircraft chronographs the middle of last century.
03.07.12 Comments(0)

New Wristwatch by Louis Vuitton with flying hands
Tambour Mysterieuse watch by the watch company Louis Vuitton has inspired by the brilliant inventions of the legendary magician of the 19th century, Jean-Eugene Robert-Houdin.
14.03.12 Comments(0)

In September 23, 2011, a charity auction Only Watch was held
In September 23, 2011, on Friday, a charity auction Only Watch was held under the patronage of His Highness Prince Albert II. The proceeds for the auction will be given for research into Duchenne muscular dystrophy. The auction is held every two years, and among its members the most prestigious Swiss watch brands appear.
26.09.11 Comments(0)



Louis Vuitton, the founder of one of the oldest fashion houses, was born in 1821, in the canton of Jura, Switzerland. In 1835, being a 14-years old teenager, he went to Paris by feet without any money in his pocket. There he studied a joiner's work and was so successful in it that sooner he became a private joiner of Empress Eugenie de Montijo, the wife of Napoleon III. Significant connections within the French elite helped him to open his own joiner's shop at Rue Neuve des Capucines street in Paris, in 1853. This shop is also mentioned in works of Denis Diderot, a famous French philosopher. 1858 is considered to be a creation year of a suitcase o...
Detailed information Louis Vuitton