Chinese watchmaker The Chinese Timekeeper delighted its fans with another original novelty CTK18 White Jade Automatic.
The unique novelty is equipped with a round black case. The black bezel is attached to the case by 4 screws. The black dial is marked with hour markers, made from the rarest Burmese white jade of class A. White Jade - a rare and expensive jemstone.
It should be noted that jade is highly valued by the Chinese, who call it the "stone of life", it is their national stone. In China, this stone has always been valued more than gold and silver.
11 hour markers are made of the gemstones that looks perfect on the black dial, highlighting exquisite brevity of the watch.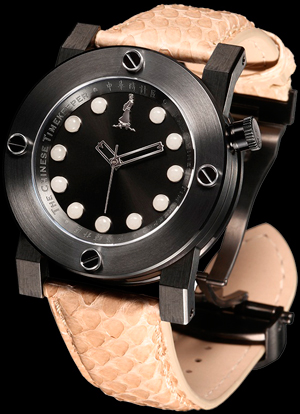 CTK18 White Jade Automatic watch by The Chinese Timekeeper
Indication of hours, minutes and seconds is carried out by means of three central hands, the hour and minute of which are skeletonized. The Chinese Timekeeper's logo is written on the periphery of the dial. The black crown is set at the 2 o'clock position.
The new CTK18 White Jade Automatic watch is released in a limited edition - 18 items, which can be bought at the price of $ 4250 only in The Chinese Timekeeper boutique in Hong Kong.
Official site of The Chinese Timekeeper.
Written by Angel
19.06.2013