Swiss watchmaker Antoine Martin has announced the release of its next novelty Slow Runner. The originality lies in the caliber of the novelty at very low frequency range - 1 Hz. Despite the fact that this is just one strike in a minute, it does not mean that this breaks the accuracy of the watch.
Compared with other manufacturers of wristwatches seeking to reduce the size and increase the frequency of the watch speed, which theoretically leads to accurate indication of the time, the watchmaker Martin Braun chose another way. As you know, the quartz watches are in the superior precision than mechanical ones, so Brown decided to emphasize what makes a mechanical model so unique - a wonderful combination of mechanics and art.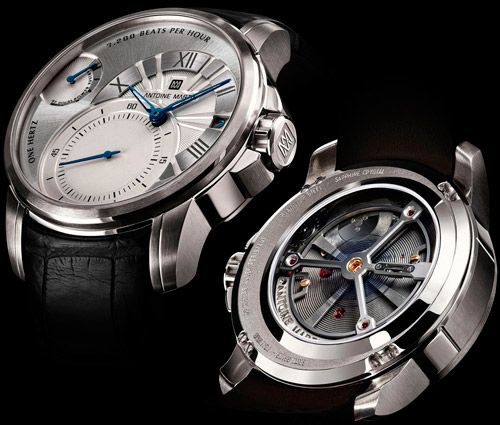 Antoine Martin Slow Runner – a watch with a low frequency range
The transparent back cover, made of sapphire crystal, allows monitoring the operation of the hand-wound caliber AM36.001. The mechanism is inserted in a 42 mm case. The convenient and easy-to-read dial has several sub-dials. The window, placed on top of the main dial, is equipped with Roman numerals and two hands, designed to indicate hours and minutes. Large hands are used to emphasize the slow pace of the second's hand. The hand makes two small ticks in a second. To indicate the 92-hour power reserve is a separate dial at the 10 o'clock position.
The company has released two versions of the novelty, one of which has a silver dial, and the second - in anthracite color. The price of both versions - 19 500 Swiss francs. Another option with a rose gold case will be available at a price of 34,500 francs.
Official site of Antoine Martin.
Written by Angel
30.03.2013