For the first time at the Geneva Time Exhibition 2012 the company Antoine Martin presents its new collection of watches Quantieme Perpetuel au Grand Balancier.
After two years of hard work and zealous research the company finally has presented to the public its first manufactory mechanism - AM39.001, fully developed in the company's own workshop. Caliber with manual winding has a fantastic design, equipped with a perpetual calendar, a wide display of date and six-day power reserve.
The main features of the mechanism are two innovations: a new trigger system - High Performance Escapement (HPE) and amplitude control of the wheel balance - Aerodynamic Amplitude Stabilization (ADAS).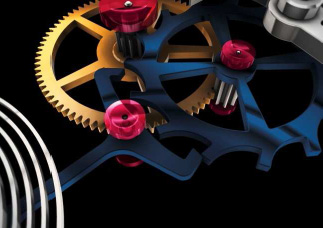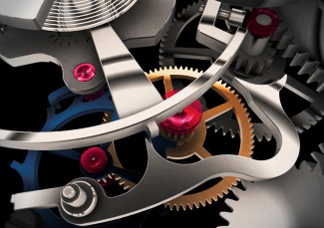 The calibre AM39.001 includes a new modified controller, named High Performance Escapement (HPE). The fact that the nodes in the standard escapement mechanism, typically used for greater efficiency and minimizing the usage of lubrication in the mechanism. However, according to the creators of HPE, in this mechanism, the problem does not arise, as the descent is made of silicon, which is absolutely no need for lubrication. And as a result, the trigger HPE is many times more efficient than the standard trigger.
Another innovation is the regulator of the balance wheel amplitude - Aerodynamic Amplitude Stabilization (ADAS). This is an original invention is a "cam", which is activated by power reserve indicator. When the mechanism is fully wound up, the "cam" is shifted to 0.01 mm towards the balance wheel, which creates an "air bag" in the mechanism which in turn creates a "soft" brake for the wheel. And the main driving force is reduced to zero, stopping the movement of the wheel. System ADAS balances the emerged paradox and controls the constant amplitude of the balance wheel, regardless of spring tension.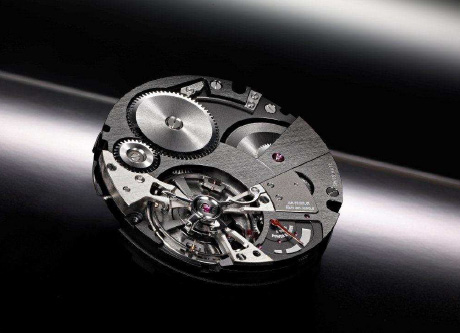 Collection Quantieme Perpetuel au Grand Balancier by the company Antoine Martin, presented at the GTE, is made on the basis of innovative mechanisms. The basis of watches became the manufacturing caliber AM39.001, the main "nail" of which was the balance wheel. The developers have put him almost in the center of the mechanism. The wheel has an impressive size - 17.5 mm in diameter and made of high-tech titanium Grade 5.
A case hardly could be even more difficult. To demonstrate once again the originality and complexity of their "child" the masters of Antoine Martin "dressed" the technical invention in the partly matte and polished case equipped with removable strap anchorages, that is certainly worthy framing of the watches from this collection.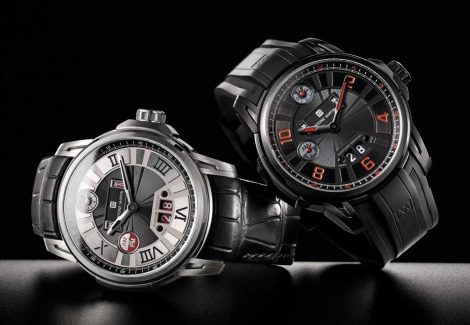 19.01.2012