| | |
| --- | --- |
| MELB Holding bought Hautlence | |
In March 2012, MELB Holding acquired the watch company Hautlence, founded in 2004.
The watches of the company Hautlence characterize unusual design and are equipped with sophisticated features. Talented people, whose purpose was to create unique watches, founded this company. It is safe to say that they succeeded.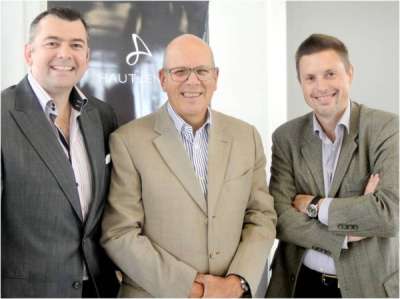 MELB Holding bought Hautlence
Today the brand announces first positive results of work within the MELB Holding, which is engaged in two types of products - products in the luxury segment, and medical equipment.
In a joint operation, the models of the brand Hautlence appeared in two new points of sale - Los Angeles and Dubai. In addition, the new models were released; they will be presented at the GTE 2013.
Official site of Hautlence.
Written by Angel
23.11.2012
Hautlence: Destination line in Shenzhen
The company Hautlence invites watch lovers to see the first three models of the collection Destination, which will be presented as part of a world tour.
17.03.14 Comments(0)

New Destination 01 Timepiece by Hautlence
The new model Destination 01 by Swiss watch company Hautlence is presented in a case of titanium with DLC- coated. Waterproof up to 30 meters, the case has dimensions of 43.5 mm x 37.0 mm x 13.0 mm.
31.01.14 Comments(0)

HL 2.3 Timepiece by Hautlence
Swiss watchmaker Hautlence announces the release of its novelty HL 2.3, presented in black titanium case. The case length - 50 mm, width - 42 mm, thickness - 17.8 mm, water resistant - 30 meters. The total weight of the model is 49 grams. Case is polished by hand.
17.03.13 Comments(0)

New Avant-Garde Retrograde Watch by Hautlence
The watch company Hautlence has released a novelty Avant-Garde Retrograde, which will be officially presented at the GTE, held from 20 to 24 January. The model is available in two versions: HLRQ02 and HLRQ03.
22.01.13 Comments(0)

New AVANT-GARDE Collection by Hautlence
Famous for its innovative approach to display the time, the watch company Hautlence from Neuchâtel again utilizes its design elements to create a new collection called AVANT-GARDE, where a inventive approach combined with a creative outlook of its creators.
11.10.12 Comments(0)

HL 2.2 Watch by Hautlence
The watch company Hautlence has announced the release of a new wristwatch HL 2.2, in which the computer simulation and advanced design technology harmoniously combine with traditional watchmaking.
11.07.12 Comments(0)

New Hautlence HLC 06 watch
LA CHAUX-DE-FONDS, June 2012 - Following on from the launch two years ago of the first models in the HLC line, Neuchâtel watch brand HAUTLENCE is launching an elegant rounded version, limited to 88 numbered pieces, which combines beauty and practicality while remaining true to the minimalist heritage of the very first line, the HL.
19.06.12 Comments(0)



Hautlence is Swiss watch brand, that was founded in 2004 by Renaud de Retz, Guillaume Tetu, Jean Plazene, Jean-Christophe Chopin and Alain de Forges. They created an interesting name for the watch company – Hautlence. It is an anagram of "Neuchatel", a symbol of traditional Swiss watchmaking. The brand name once occurred to Guillaume Tetu, when he went by train to Neuchatel, and during the trip he played "Blockhead" along. The founders chose the Mobius strip as a company's logo. This strip looks like the symbol of eternity. During the creation of the watch movements, Swiss watch brand worked ...
Detailed information Hautlence