In October 9, 2012, the new website Victorinox Swiss Army - nightvision.victorinox.com began to work. It was created by the company and dedicated to the release of the update collection of the multifunctional watch Night Vision.
Thanks to a new website, fans of the watch brand Victorinox Swiss Army, and not only the fans will be able to be acquainted with the collection, finding a detailed description of the models. On the site there is also a video, a list of special events, the launch of the collection and performed around the world. Visitors can read the reviews of users who have already experienced the practice the watch functions. For example, during the last 610-kilometer expedition Siberian Black Ice Race the participants were walking and skiing across Lake Baikal. Members reviews to find their place in this site. The Night Vision watch became the equipment part of the German team, sponsored by Victorinox Swiss Army. When the temperature reached -40 °C, the watch Night Vision helped participants - Michael Sneotte, Tobias Altman and Dominic Laksh, according to strict standards of the time - a necessary condition for success in such extreme events.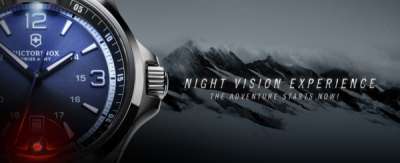 new Victorinox Swiss Army website begins to work
All visitors have the chance to participate in the competition, which will take place from November 2012 to March 2013. Participants can monthly win not only the model Night Vision, but also they have the opportunity to go to Switzerland to see the geographical and cultural roots of the company Victorinox Swiss Army.
Official website of Victorinox Swiss Army watches.
Written by Angel
11.10.2012