The Swiss watch company Victorinox more than 125 years is engaged in development and production of multi-tools and knives, including the famous Original Swiss Army Knife. This versatile folding knife is equipped with a blade and few additional tools, such as screwdrivers, bottle openers, corkscrews, etc.
Victorinox is a family owned company that produces various accessories, remaining faithful to Swiss traditions and following the motto - high quality and innovative technology.
In its new advertising campaign, this brand provides an opportunity to tell true stories and impressive brand fans, its customers.
And the beginning of the story of this famous brand in 1884, when Charles Erlzner with her mother Victoria opened a small workshop, which was engaged in the production of knives in order to obtain and execute the Army order. Shortly after the opening of the workshop Karl came up with an original idea - instead of in a compact form the set of practical features. And in 1897, his idea became a reality. He created the original Swiss Army knife, putting it top of the big stories.
The workshop, which belonged to the family Erlzner, in a short period of time, became famous thanks to the development and manufacture of Swiss army knives, and then - kitchen tools, watches, perfumes and clothing. Despite the variety of product range, the brand has kept loyalty to the idea of creating the first multi-function knife, namely the connection in one product functionality, superior quality and ingenious design.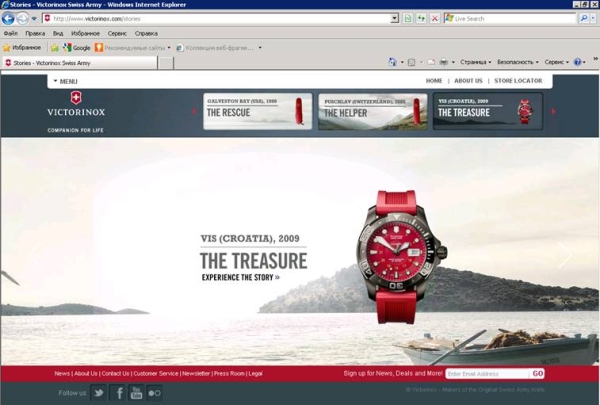 Swiss Victorinox Company Launches a New Advertising Campaign
We can mention the fact that the famous red knife from Switzerland, made in an exclusive design, typical of the brand Victorinox, won the hearts of customers around the world. Later this success won other products, born under the brand name Victorinox Swiss Army.
Starting a new advertising campaign due to a specific purpose is to increase brand awareness, as well as integration of different product categories one philosophy. Due to the advertising company, everyone can be aware of the real history of people who have been helped by Victorinox products in different situations.
These stories happened to them in daily life or during travel in different places - on land, water, air. Among these people there are those whose lives are saved by Victorinox products, or they helped to find solutions in difficult situations.
The new advertising campaign from the history of customers from the past will be connected with the history of the brand itself, its current employees who are working hard to create original products that meet rapidly changing requirements of customers. This is the story of the fans Victorinox, which made it the way it is today.
Together with the new strategy of the brand's development, Victorinox presents the first global advertising campaign in May 2012. It will introduce us to the stories of customers and employees of the brand in a stylish and memorable visual performance. This allows the brand Victorinox to show the richness, diversity, breadth and appeal of the historical heritage of the brand.

Official website of Victorinox Swiss Army watches

Written by Angel
16.05.2012