The company Fendi has announced a new jewelry models Precious Pave Crazy Carats, set up by the innovative patented technology, which allows changing the location of precious cameos on the dial just with one turn of the crown.
Dial, case and bezel are encrusted with black and transparent diamonds. On the dial there are 33 rotating precious stones, each of which are carefully polished and individually processed. At the 12 o'clock position there is a mounted diamond, the remaining hour markers - rotating and replaced with another stone when you turn on the winding head at the 4 o'clock position. To set the time is a button located on the lateral surface of the case in the position between 9 and 10 o'clock.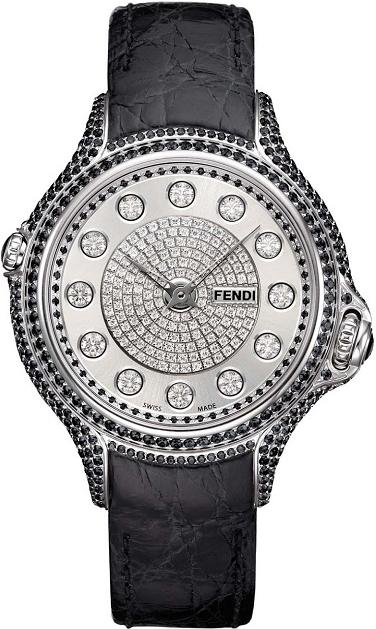 Fendi Precious Pave Crazy Carats watch
Fendi Precious Pave Crazy Carats watch is presented in the case of 18-carat white gold (diameter - 38 mm) and both sides are protected by a strong sapphire glass.
All models Fendi Precious Pave Crazy Carats are individually numbered and have a 2-year warranty.
Official website of Fendi watches.
Written by SinCera
27.06.2012