In 2011, the fashion house Dior presented in Paris a new watch collection Dior VIII. Bright and catchy models subjugated women's hearts: during the year the baseline is supplemented by numerous innovations.
In the Dior VIII watch the rotor is of great importance, which is the mechanical part, providing the winding of the mechanism. Rotor Dior Inversé has become a key element of the watch decoration. It is situated between the dial and sapphire crystal. In the Dior VIII collection there are models with a rotor of a diamond mesh, mother of pearl pieces, decorated with diamonds or colored feather.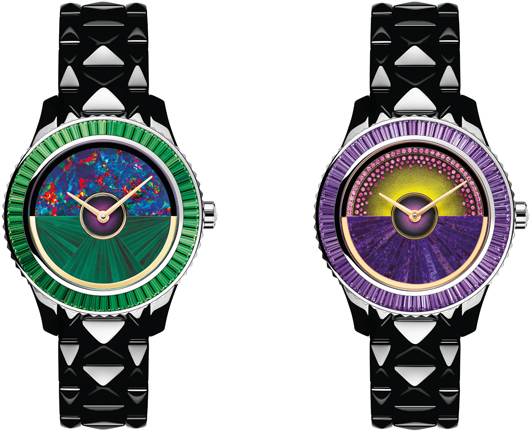 Dior VIII Grand Bal Haute Couture (models n°1 and n°2)
New models Dior VIII are presented in the case of high-tech ceramics, differing not only good performance characteristics, but also aesthetic appeal.
The line of Dior VIII has three sections: the first includes commercial models made of white ceramic, the second - watches with precious / semi-precious stones (aquamarine and ruby of "pigeon blood" color), and various decorative elements, in the third – models of Haute Couture. The last segment is considered the "high" and incorporates a series of limited edition watches, to create of which the designers were inspired by elegant dresses of Dior haute couture.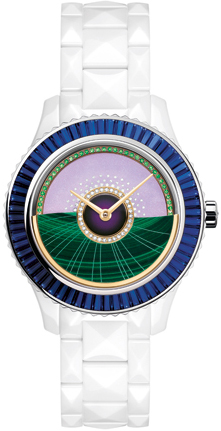 Dior VIII Grand Bal Haute Couture (model n°5)
"Haute Couture watches are directly related to the clothing of our Paris studio. That success laid the line Dior VIII ", - said the director of Dior Timepieces Laurence Nicolas.
This year Dior has introduced five models of haute couture, each of which is elaborately decorated with loose jewels, glittering like a rainbow.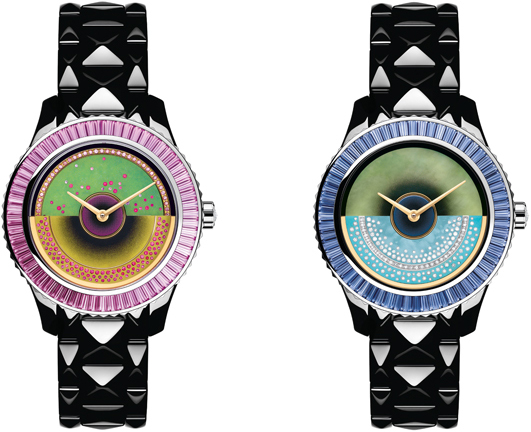 Dior VIII Grand Bal Haute Couture (models n°3 and n°4)
In the Dior VIII Grand Bal Haute Couture watches, presented this year in Paris, pastel colors are combined with garish hues, pearl and opal plate - with multicolored spinel and diamonds.
The novelties are designed based on automatic mechanisms.
Official website of Dior watches.
Written by SinCera
22.06.2012