A new MiLestone in Lamborgini Motosport History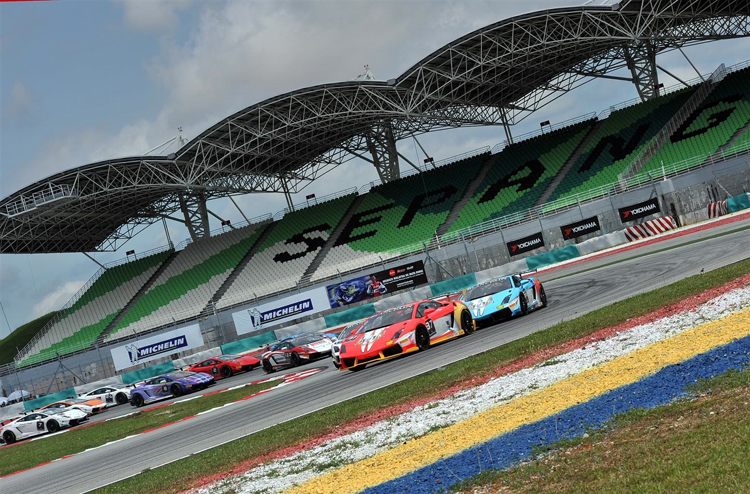 Super Trofeo race cars heating up the tracks of the Sepang International Circuit on the first race weekend of the Lamborghini Blancpain Super Trofeo in Asia
May 27, 2012, Sepang, MY - Italian supercar manufacturer Automobili Lamborghini and luxury Swiss watchmaker Blancpain enjoyed a sensational debut to their first ever Asia Series of the Lamborghini Blancpain Super Trofeo at the Sepang International Circuit this weekend. Already in its fourth year in Europe, the Super Trofeo Championship in Asia will now provide an exclusive platform for Gentlemen drivers, entering individually or in teams of two, to compete at the wheel of the bespoke Lamborghini Super Trofeo race car in one of the world's fastest one-make Series. With 18 confirmed teams coming from Malaysia, Singapore, Thailand, China, Taiwan, Hong Kong and Japan, the opening weekend of the Asia Series saw the brand's extreme, uncompromising and quintessentially Italian super race cars showcased at their best in two fiercely competitive races.

As crowds of spectators watched on, the Super Trofeo racing teams followed the racing format set for the entire season, including a 50 minutes practice session providing precious time to get accustomed to the track, before entering a 35 minutes qualifying race and two official races each 50
minutes long. A compulsory change of drivers from minute 20 to minute 30 in both official races added to the crowds' excitement, as teams carried out their carefully rehearsed driver change while vying to keep the lead over other competitors.

This year's Asia Series follows on from three seasons of the European Series successfully held since 2009. Having made their mark on such iconic European circuits as Spa Francorchamps and Monza, the company behind the emblematic bull and its watch partner are now ready to take on some of Asia's highest-standard international circuits, stopping in Sepang, Fuji, Ordos, Zhuhai, Penbay and Shanghai for the Grand Finale in November.

"The Super Trofeo Asia Series is an important milestone for our company" said Automobili Lamborghini S.p.A. President and CEO Stephan Winkelmann. "Lamborghini is already wellknown for its iconic supercars, but now we are also excited to share our passion for motorsports with other enthusiasts across Asia. We are also thrilled to have such an international group of drivers, and we look forward to follow them throughout the Series as they experience Lamborghini in its most extreme form."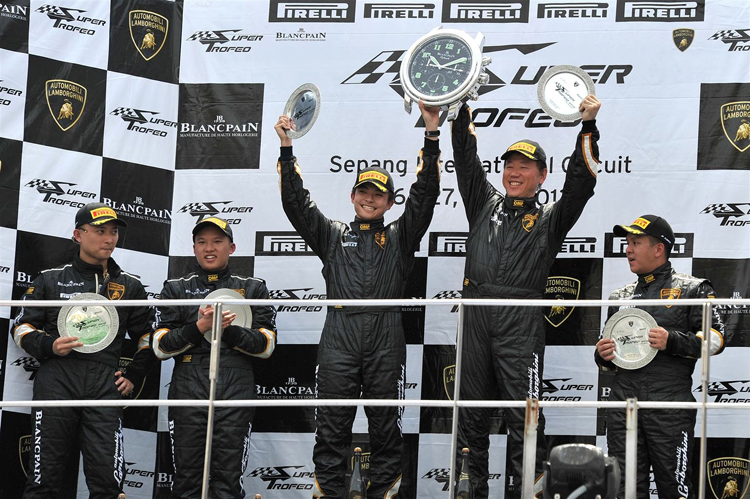 Lamborghini Blancpain Super Trofeo champions celebrating on the podium after the first race of the Asia Series
More than a motorsport event, the Super Trofeo Championship is also the ultimate lifestyle experience for those who dare to ride Lamborghini's most extreme bull. As a luxury brand and advocate of expert craftsmanship, Lamborghini is honored to partner with Blancpain, the prestigious Swiss watchmaker and the European Series' title sponsor, for its first Series in Asia.

Mr. Delamuraz, Vice President and Head of Marketing of Blancpain said: "Over the years, Blancpain is increasing its active presence in Asia. We are really excited to launch a Super Trofeo championship in Asia this year. This new concept, similar to the Super Trofeo in Europe, will allow passionate mechanics lovers to race on Asia's most prestigious racetracks! For Blancpain and Lamborghini, this project is the result of a mature reflexion, based on a 3 year partnership in Europe as well as on our knowledge of our local clients' expectations."

The Series' debut in Sepang was held successfully alongside the famous Malaysian Super Series. Throughout the rest of the Super Trofeo Asia Series, Lamborghini and its watch partner will be working in conjunction with other major racing events across Asia, such as Formula Nippon in Japan, and Audi Pandelta Race in Zhuhai, China culminating in a big season finale in Shanghai in November with a Group final (Lamborghini ST, Audi R8 LMS Cup, VW Scirocco Cup Asia and Porsche Cup Asia).

Lamborghini Motorsports & the Super Trofeo Race Car

Lamborghini is no stranger to the world of motorsports, having first produced engines for Formula One as early as 1989 to 1993. Lamborghini cars have since competed in the Diablo Supertrophy, from 1996 to 1999, using the Diablo SVR and Diablo 6.0 GTR. Moving on to develop the Murciélago R-GT, Lamborghini achieved both race and class victories in the FIA GT Championship, Super GT Championship and the American Le Mans Series. In 2009, Lamborghini took its biggest step yet into the arena, creating a racing version of the Gallardo LP560-4 and demonstrating once more its advanced precision engineering and fascinating design aesthetic.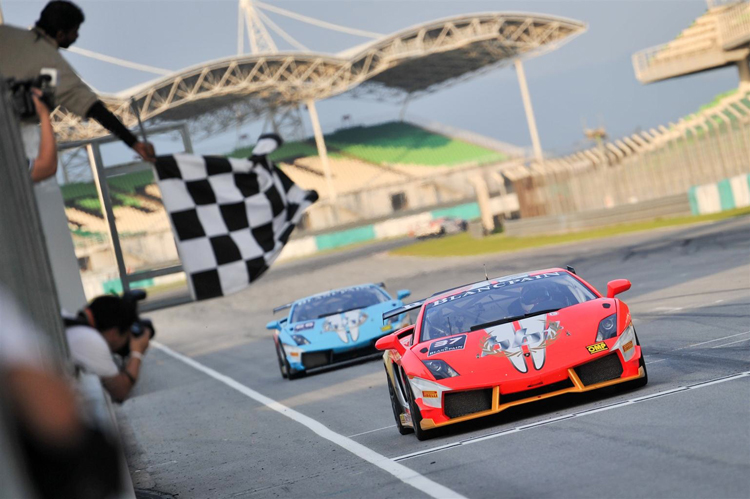 Lamborghini Motorsports & the Super Trofeo Race Car
A lightweight version of the road-going Gallardo LP 560-4, the Super Trofeo race car comes complete with a reworked chassis and a power output of 419 kW from its V10 engine. The race car features Lamborghini's permanent four-wheel drive and comes equipped with leading safety features, including an FIA FT-3 fuel cell, a full roll cage, a new Brembo Racing brake system and compatibility with HANS safety devices.

Typical of Lamborghini, the Super Trofeo's bodyshell is not only extremely light but also exceptionally safe. Boasting tremendous torsional stiffness, the Super Trofeo maintains outstanding handling. Carbon-fibre composite features heavily in the bodyshell's construction, forming the front skirt, splitter, rear bonnet, front compartment cover, side skirts, diffuser, rear skirt and large rear wing. The rear wing can also be repositioned to suit the requirements of different race tracks and environments, while all the race car's windscreens and windows are made from Makrolon lightweight hi-tech polycarbonate.

Complementing its carbon-fibre black Alcantara panels, the Super Trofeo comes equipped with one low-mounted racing bucket seat, produced in light and stiff Kevlar carbon-fibre composite, providing perfect ergonomic support to the driver, who is then secured into position by a sixpoint racing harness.
Official site of Blancpain watches.
press-release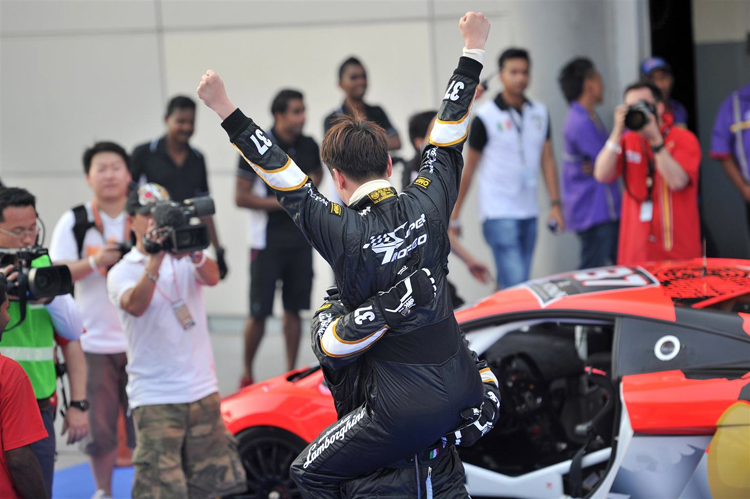 Winners of Lamborghini Blancpain Super Trofeo Asia
30.05.2012