| | |
| --- | --- |
| BaselWorld 2012: Romain Jerome and its New Steampunk Chrono Watch | |
On the eve of the 100th anniversary of the collapse of "Titanic", watchmaker Romain Jerome has presented a new collection of Steampunk Chrono watches, consisting of unique instances, the design of which is made of interwoven into each other elements of retro style and impressive futuristic. Provocative and surprising aesthetic appearance of the new chronographs embodies a genuine industrial revolution.
At the international exhibition BaselWorld 2012 new items were presented in three versions: Steampunk Metal Chrono (Ref. RJ.T.CH.SP.001.01), Steampunk Black Chrono (Ref. RJ.T.CH.SP.002.01) and Steampunk Red Chrono ( Ref. RJ.T.CH.SP.003.01). Each version of the watch is released in a limited number of 2012 items.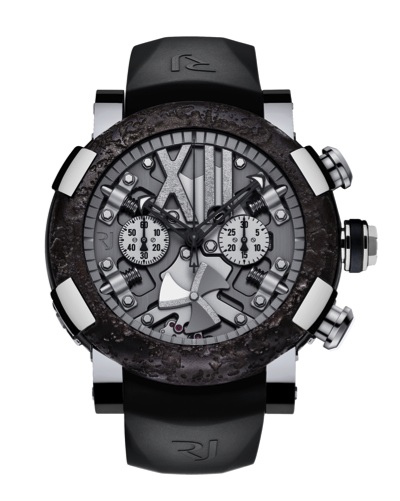 "Dressed" in the case of 50 mm diameter, the watch is denied of the dial in its direct sense. This allows the viewer to fully appreciate the clean lines and sturdy construction of the movement, inspiring respect. The mechanism consists of 300 components and is mounted by four screwed pistons in the form of a letter "X", which symbolizes the company's logo. The unique mechanical self-winding caliber, designed specifically for the company Romain Jerome, has a 42-hour power reserve.
Steampunk Chrono models are endowed with impressive capabilities to integrate key elements of the Titanic- collection DNA. The bezel of the novelties are made of stainless steel from the body of the deceased liner with a stabilized with rust, which covered by "paws" in the form of four rims from stainless steel with black PVD-coated, or 18-carat red gold. Lugs of the case, crown and chronograph pushers are also made from these materials.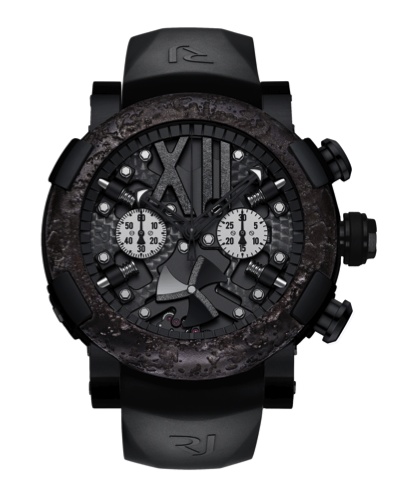 A large Roman numeral XII is mounted on the front side of the mechanism, on which was to be located a traditional dial, by 4 pistons at 2, 4, 8 and 10 o'clock positions and a rotating helix at the 6 o'clock position. The rotation of the screw provides an automatic winding rotor, as they relate to each other. Skeletonized hour and minute hands are shaped like an anchor of "Titanic."
The novelties are designed on the basis of an automatic mechanism RJ001-CS, collected at 39 jewels, with a carrying frequency of 28,800 semi-oscillations. Indication of time is carried out by using central hour and minute hands. The small seconds hand is put to the lateral dial at the 9 o'clock position. The chronological functions are displayed on a 30-minute display at 3 o'clock position, and by means of the central second's hand.
The watch water-resistant is 30 meters. New items are delivered on the straps of the textured rubber with steel buckles.
To buy Steampunk Metal Chrono watch will be for possible through the official representatives of the company Romain Jerome.

Official website of Romain Jerome watches.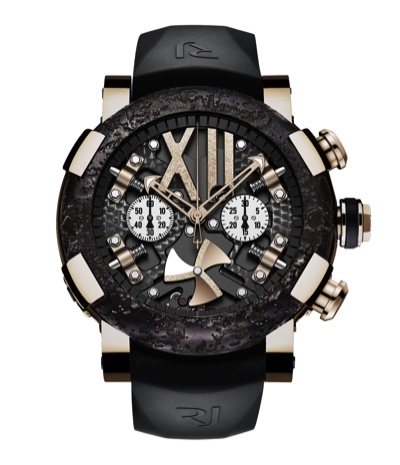 04.04.2012
Skylab by Romain Jerome
The watchmaker Romain Jerome announces a new skeletonized novelty Skylab. The model gets its name in honor of the first space station NASA. This is a National Aeronautics and Space Administration, owned by the U.S. federal government and reporting directly to the Vice President of the USA.
16.12.13 Comments(0)

RJ-Romain Jerome's
Every year in Mexico, celebrations honouring the dead brighten up the whole country. Classified as part of UNESCO's "Intangible Cultural Heritage of Humanity" since 2003, the "Día de los Muertos" is the most important date in the Mexican calendar.
02.11.13 Comments(0)

Tattoo-DNA by Romain Jerome
Swiss watchmaker Romain Jerome has launched a new limited edition model Tattoo-DNA, which is developed in close collaboration with the famous tattoo artist, tattoo studio owner and collector Mo Coppoletta.
16.09.13 Comments(0)

Steampunk Chrono Colours by Romain Jerome
The famous watchmaker Romain Jerome has released a summer watch collection Steampunk Chrono Colours, including models with multi-colored dials: yellow, red, blue, green, orange. It is in these colors are made internal discs of dials and crowns.
19.07.13 Comments(0)

First Pilot's Watch Spacecraft by RJ-Romain Jerome
Manuel Emch, CEO of RJ-Romain Jerome launches a new project with the participation of the two known watchmakers - Eric Giroud and Jean-Marc Viderreht. Their creative ideas embodied in a unique model, called Spacecraft.
25.02.13 Comments(0)

RJ-Roman Jerome celebrates Day of the Dead
Each year, Mexico celebrates the Day of the Dead - Día de los Muertos. As part of the UNESCO's "Intangible Cultural Heritage of Humanity" in 2003, the Day of the Dead became red in the Mexican calendar.
03.11.12 Comments(0)

Watch with a Skull by RJ-Romain Jerome
Being an avid fan of modern art, CEO of the watch company RJ-Romain Jerome Manuel Emch has announced a partnership with world famous brand of Swiss painter John M Armleder, working in the genres of performance, installation, sculpture and painting.
18.10.12 Comments(0)

Pac-Man Yellow Throats on the Romain Jerome Watches
Pac-Man is a cult computer game in the genre of arcade games, the history of which dates back to 1979 in Japan. TV series was filmed for this game, was released a music album Pac-Man Fever, tracks with the names of popular games of that years.
28.08.12 Comments(0)

New Liberty DNA Watch by Romain Jerome
Swiss watchmaker Romain Jerome presents its new model Liberty DNA (Ref. RJ.T.AU.LI.001.01). It was developed and released in honor of the famous Statue of Liberty, which is located in New York.
07.07.12 Comments(0)

BaselWorld 2012:
So, the novelties, presented on one of the largest exhibitions in the watch world - BaselWorld 2012, continue to haunt the imagination of watchmaking art amateurs, original technical solutions and unusual design registration.
02.05.12 Comments(0)

BaselWorld 2012:
The company Romain Jerome used in its watches all sorts of fabulous materials to create models, even with the rust from the sunken "Titanic", now took up the dust, but not as usual as they say, a gold!
28.04.12 Comments(0)

BaselWorld 2012: The Moon Invader Watch by Romain Jerome Company
At the international exhibition BaselWorld 2012, where, incidentally, attended the team of journalists of watch portal Montre24.com, known for its creative projects the company Romain Jerome has introduced a new line of women's watches The Moon Invader, which embodies the passionate desire of men to understand the mystery of so near but distant at the same time celestial body - the Moon.
26.04.12 Comments(0)

New Titanic-DNA Watch by Romain Jerome
The watchmaker Romain Jerome continues his famous archaeological tour with the release of a new model Titanic-DNA Chrono Tourbillon. The novelty is presented in three versions: steel watch, red and black. Each version of the limited edition watch is released of 9 instances.
15.01.12 Comments(0)



The collection of the Romain Jerome watches is a kind of the archaeological excursion. The watch company was founded in 2004 by Yvan Arpa. It became famous by its series of the super-luxury watches. The first collection of the brand Romain Jerome was named Titanic-DNA. The titanium watch case was decorated as rusty iron and made from the hull of the legendary ocean liner "Titanic". The originality of the ideas, in addition to "DNA" of "Titanic", is the rust. The rust is the enemy of the watch industry, from which all watchmakers tr...
Detailed information Romain Jerome