| | |
| --- | --- |
| Conquering disasters: new watch Marinus Chronograph by Muhle Glashutte at BaselWorld 2012 | |
For more than a century the German watchmaker Muhle Glashutte is the creator of high-quality gauges of time, which differ by their accuracy. At the annual exhibition BaselWorld 2012 the watch manufacture Muhle Glashutte presented its next creation, which certainly deserves attention – men's watch Marinus Chronograph. Men's watch Marinus Chronograph immediately catches an eye by its appearance, creating the impression that it represents the water element. However, the water is not the only element: Marinus Chronograph watch is designed to accompany its owner in any active endeavor, be it surfing, snowboarding, swimming or riding a snowmobile. Men's watch Marinus Chronograph has been chosen to participate in the Fulda Challenge 2012 due to its perfect characteristics.
Extreme arctic competition Fulda Challenge, including the decathlon program, is annually held at the stunning landscapes of the Canadian Yukon. Athletes defy the cold along the route of 1500 km, which includes a ride on the sled dog, skijoring, and half-marathon at -40 ⁰ C. The Muhle Glashutte watch company first became the official timekeeper of this extreme event, marking this event by the release of limited edition watch Marinus Chronograph only in 250 pieces.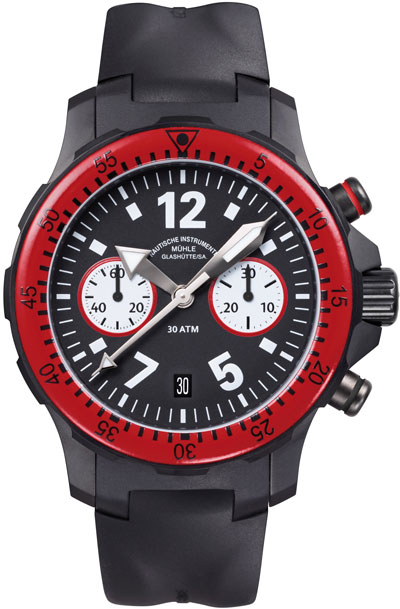 Strong character of Marinus Chronograph watch is visible only at one glance: the pressure case with diameter of 44 mm, made of stainless steel with black DLC coated as if challenged to anything, even the most impossible undertakings. Reliable domed sapphire crystal with thickness of 2.5 mm can stand pressure up to 30ATM. Men's watch Marinus Chronograph is capable to stand a such negative environmental impacts, as fluctuations in temperature, influence of salt water and the pressure changes. They seem designed to accompany its owner in the most extreme situations. Exposure of any tests for the chronograph Marinus Chronograph is made possible by the use of an automatic mechanism MU 9408. The patented system of regulation "woodpecker neck" ensures maximum accuracy even under the harshest conditions. 48 - hour power reserve, chronograph functions and date corrector complement flawless technical characteristics of this watch. The watch dial with white indexes, date aperture at the position 6 o'clock and the two counters that display seconds and minutes features of chronograph, covered with durable sapphire crystal. Unidirectional rotating bezel in bright red stands perfectly out on a black watch background. Thanks to the luminescent substance Super-LumiNova, which hands are covered with, and all indicators of the dial, this watch provide readability, even in absolute darkness. Black strap is made of rubber or stainless steel and equipped with a reliable fastening expansion system is also made of steel. If you decide to buy a watch Marinus Chronograph, you will have to pay 3.500 Euros, perhaps it is fairly reasonable price for the watch with such flawless technical characteristics.
Official site of Muhle Glashutte watches.
24.03.2012
BaselWorld 2014: Antaria Date by Mühle-Glashütte
At the exhibition BaselWorld 2014, the German watch brand Mühle-Glashütte has introduced a novelty Antaria Date, which is named in honor of Antares - the brightest star in the constellation Scorpius.
01.04.14 Comments(0)

M 29 Classic Kleine Sekunde by Mühle Glashütte
German watchmaker Mühle Glashütte announces a new watch M 29 Classic Kleine Sekunde, whose design is inspired by the design of the historical model 29, developed by Robert Mühle, the founder of the brand.
28.02.14 Comments(0)

Teutonia III Handaufzug by Mühle Glashütte
German watchmaker Mühle Glashütte presents a new version of the Teutonia III Handaufzug watch. The model is characterized by an elegant slim design.
22.10.13 Comments(0)

BaselWorld 2013: Antaria Chronograph by Mühle-Glashütte
German watchmaker Mühle-Glashütte has released the novelty Antaria Chronograph. The new timepiece will be presented at the annual exhibition BaselWorld 2013. The model is named Antares - the brightest star in the constellation Scorpius.
19.03.13 Comments(0)

Mühle-Glashütte Presents New Teutonia II Chronograph Watch
Robert Muhle founded german watchmaker Muhle Glashutte in 1869. Over the years, this brand has engaged in the development and production of the original watch. Today the company has announced the release of the novelty Teutonia II Chronograph, decorated in elegant, sporty style.
30.11.12 Comments(0)

Mühle-Glashütte and its new wristwatch Terrasport II
The Saxon watch company Mühle-Glashütte has announced a new watch model Terrasport II, which expanded the sports watches line Terrasport. The design of the novelty is a standard of a classic pilot's watch.
16.12.11 Comments(0)



The German Muhle Glashutte company was founded in 1869 by Robert Muhle. During five generations the company has been successfully creating unique in their sort navigating watches and instruments. In the beginning of its activity, the company produced measuring tools and instruments which made a major contribution in development of the German watch industry. In 1896 the company received a golden medal for its instruments at the exhibition taken place in Dresden. In 1920 the company began making watch movements and measuring instruments for technological and scientific needs. In 1945 the family busin...
Detailed information Muhle Glashutte