| | |
| --- | --- |
| News of Montre24.com: exclusive video of the company Louis Erard at GTE 2012 | |
Informational watch portal Montre24.com provides a unique opportunity to all fans of watch making, which closely follow the latest developments in the watch industry, make acquaintance with classic models of the watch company Louis Erard, which the company proudly presented at the annual exhibition GTE 2012. The company Louis Erard presented collection, consisting of eight models, from which three models – are ladies watches. There are watch model with regulator and model with indicator of Moon phase and calendar. This collection was also presented in version made of rose gold. Wrists watch Louis Erard is a real embodiment of timeless classic and if you were unable to visit GTE 2012, our website montre24.com offers you a video clip http://montre24.com/video/52/, which guides you with all models of Louis Erard, presented at GTE 2012.
The watch exhibition GTE (Geneva Time Exhibition) is one of the most significant events of the watch industry, which is held in Swiss town Geneva every year. Today the main goal of the exhibition GTE is to create optimal conditions for creative watch makers to realize their creations. The annual exhibition GTE provides to all watch companies, as well as the independent watchmakers to acquaint the general public and professionals with their latest creations, innovative achievements in the field and to share new ideas. The annual watch exhibition GTE presents the best watch creations, which are the true embodiment of Haute Horlogerie, excellence and boundless beauty.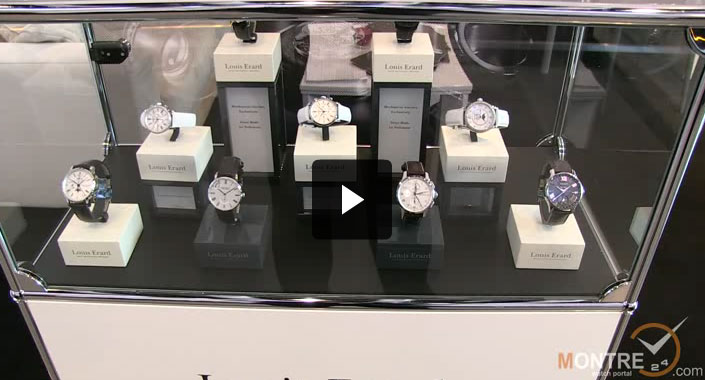 28.02.2012
Mens 1931 Silver Dial Manual by Louis Erard
The watch brand Louis Erard has released a novelty Mens 1931 Silver Dial Manual (Ref. 47207AA21.BDCL21), which has a round case with a diameter of 40 mm, 8 mm thick in stainless steel. The watch water resistant - 50 meters.
27.03.13 Comments(0)

Louis Erard presents new chronographs 1931
Founded in 1931, the famous watchmaker Louis Erard pleased its fans with new chronographs. All new items are limited edition and included in the collection "1931."
10.11.12 Comments(0)

Grey Heritage Chronograph by Louis Erard
The watch brand Louis Erard, founded in 1931, has released a new model Grey Heritage Chronograph. The novelty is presented in a round case with a diameter of 40.5 mm and 13.5 mm thick stainless steel.
01.10.12 Comments(0)

BaselWorld 2012: Emotion Collection by Louis Erard
The watch company Louis Erard at the annual exhibition BaselWorld 2012 has presented a collection of exquisite watches Emotion. Elegant and feminine watches are perfectly fit into the hustle and bustle of city life. Masters of Louis Erard, of course, know how to approach women, offering them beautiful watches.
03.04.12 Comments(0)

BaselWorld 2012: New Collection of
The famous watchmaker Louis Erard at the world exhibition BaselWorld 2012 has unveiled a new collection of "1931."
02.04.12 Comments(0)

Excellence Collection by Louis Erard at GTE 2012
The watch company Louis Erard at the Geneva Time Exhibition has presented a collection of Excellence, created in 2011 to celebrate the 80th anniversary. The presentation of the lineup was held at the annual exhibition of jewelry and watches BaselWorld 2011.
18.01.12 Comments(0)



20 years of studying in watch workshops and schools in the region of Neuchatel gave Louis Erard great experience, thanks to which in 1931 he could found his own brand named Luis Erard et Fils. In 1945, during the period of the restoration of the postwar economy, his sons Rene and Jean-Louis joined him in watchmaking. 11 years later, Louis Erard received the right to manufacture his movements under his own seal. Erard's sons had followed the conservative approach of their fathers, before in 1946 the founder's grandson adopted the commercial spirit into the company's system of governing. The company flourished, especially at the market of Asia and ...
Detailed information Louis Erard