| | |
| --- | --- |
| New TNT Royal Retro RB Watch by Pierre DeRoche at GTE 2012 | |
The new model TNT Royal Retro RB, performed in a luxury sports-style, has become a great complement to the TNT watch collection by Pierre DeRoche. This novelty is represented by the brand at the GTE 2012.
The watch attracts the attention with the massive, well-rounded case shapes and a rubber bezel in rich black. The case is a combination of alternating polished and matte parts made of steel and titanium. The diameter of the watch is 47.5 mm. Time is indexed on the skeletonized dial with central hour and minute hands coated with phosphor compound. The model is modified by a unique system of second counting: around the circumference of the dial there are six thin, like a spider's legs, 10-second retrograde hands, each of which runs at a time.
Hour markers, corresponding to a particular 10-second interval, during activation of the indicators are painted from black to bright red. 6 second marks on the dial are indicated by additional jewels of the watch movement. Five other indexes are marked with Arabic numerals and the index 6 - Roman numeral VI, which is used not to confuse it with the date placed in an aperture at 6 o'clock position.
The new TNT Royal Retro RB watch is designed on the base of the Swiss self-winding mechanism Dubois Depraz, paved with 58 stones. The mechanism is based on twelve central and oblique second six bridges.
The novelty comes on a black rubber strap and equipped with a folding clasp. The watch is issued in a limited edition of 201 items with a stainless steel case and 21 items with a gold case.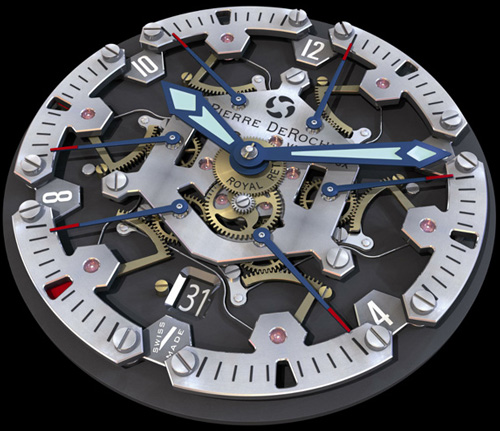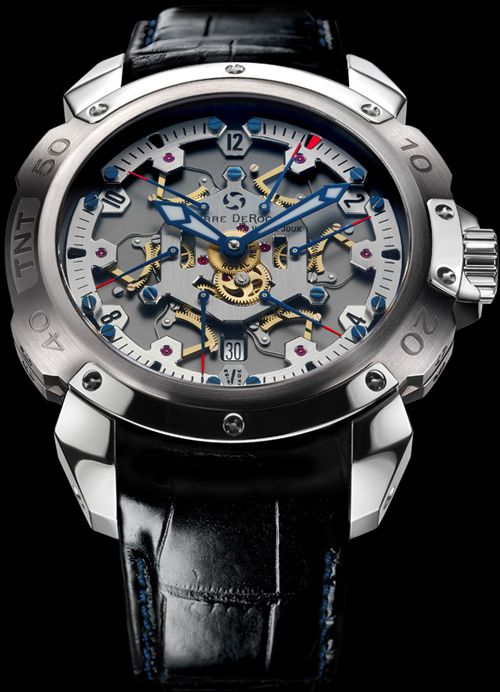 18.01.2012
News of Montre24.com: Exclusive video of Pierre DeRoche at the GTE 2012
Watch informational portal Montre24.com presents an exclusive video of Pierre DeRoche, which gives a unique opportunity for all fans of watchmaking to make an acquaintance with the masterpieces of Pierre DeRoche watch brand, presented at the annual exhibition GTE 2012.
26.02.12 Comments(0)

A New Wrist Watch TNT Royal Retro RB by Pierre DeRoche
The watch brand Pierre DeRoche has issued a completion of the TNT collection. This is a sporty watch Royal Retro RB with sufficiently massive, clear shapes and chopped with a black rubber bezel. In general, it is such as we used to see the majority of sports watches.
03.12.11 Comments(0)



Pierre DeRoche, the Swiss watch company, was founded in 1937. All wrist watches by Pierre DeRoche are high-tech and aesthetic models. While creating the watches, the watchmakers use high-quality materials and the cutting edge technology. In 2005, Pierre DeRoche presented the SplitRock watch, that completely changed the standards of mechanical chronographs. The thinnest movement enables fast and intuitive read-off of the measured times. The chronograph displays the hours, minutes and seconds on a single counter, removed from the center of...
Detailed information Pierre DeRoche