The watch brand Pierre DeRoche has issued a completion of the TNT collection. This is a sporty watch Royal Retro RB with sufficiently massive, clear shapes and chopped with a black rubber bezel. In general, it is such as we used to see the majority of sports watches.

Royal Retro RB has a diameter of 47.5 mm - very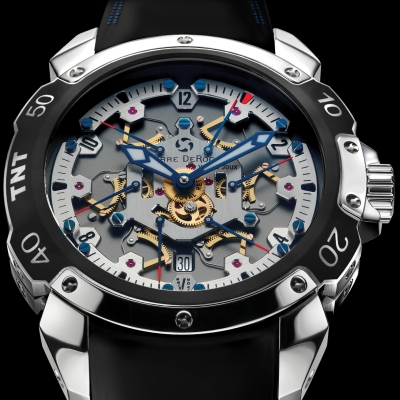 large, but the readability of its testimony is better. On the case polished and matte components in steel and titanium are alternated. The most surprising element is the dial with the skeletonized parts of an amazing mechanism to count the seconds. In addition to the two central hands (fluorescent hour and minute hands) the watch has six spider's legs, 10-second retrograde hands, setting around. These hands demonstrate in such original way seconds. As for one minute course each of the 6 retrograde hands runs in turn.

At the same time corresponding to each 10-second interval hour markers change color from black to bright red, when indicators activate. These six markers on the dial are further marked by stones of the watch movement, five others in Arabic numerals, and the marker on the 6 o'clock – by the Roman VI, for the owner not to mix up it with the date that appears in the setting next to it aperture.

Within the Royal Retro RB is set a quality Swiss movement Dubois Depraz on the 58 stones, with automatic winding. The mechanism has the twelve central bridge and six sloping satin seconds' ones.

The watch Royal Retro RB is supplied on a black rubber strap with a folding clasp.
The novelty is released in a limited edition of 201 items in steel and 21 items in gold. The model in the case with gold elements do not have rubber inserts on the bezel with markings 10, 20, 40, 50 minutes, and the brand name TNT.

The model water-resistant is 100 meters. By the way almost the same watch model, but in an entirely different case (less massive, with a thin bezel adorned with 64 diamonds) the company Pierre DeRoche has presented at Baselworld 2011. That was the model of women's watches. Its dial was made in a less technocratic way, like a new Royal Retro RB. In contrast, women's watch had a dial, which elements were stylized flowers. However, even excluding this female model, the idea of the retrograde seconds hands, dividing the dial's ring, is not new for the company Pierre DeRoche.

The Swiss watch company Pierre DeRoche was founded in 1937 Marcel Deprez.
03.12.2011