Mythological dragons on the eve of New Year 2012 began to decorate the dials of many models by different watch manufacturers. In the year of the Dragon, this theme is particularly relevant. The Swiss watch company Cornelius & Cie, issued a unique watch Dragon Gate Legend, does not delay behind its peers.
The watch is mesmerized with its excellent artistic engraving, which carried the famous master engraver Kees EngelbartsKees, Dutch-born co-founder of the company Cornelius & Cie.
The watch case in diameter of 49 mm is made of red gold, and provides a 30-meter water resistance. The case on the top is protected by a flat sapphire crystal, serving also as a transparent case back.
Partially skeletonized dial is skillfully encrusted by a carp turning into a dragon. As the ancient Chinese legend, a carp saw a mountain and decided to climb up on it. He swam against the tide, overcame the rapids waterfalls, and, finally, on top of the mountain discovered the "dragon's gate," after passing through which the carp has turned into a dragon. Myth confirms a well-established tenet for human being - only overcome all difficulties and obstacles, one can achieve success in life.
The watch is based on a mechanical mechanism A. Schild 690 with manual winding. Released in 1935, the mechanism is finished, skeletonized and encrusted by hand. The unique caliber, collected at 17 stones, has an 8-day power reserve and a balance frequency of 18,000 vph. The large power reserve is achieved by powerful springs, installed in a single barrel. A convexity because of the large barrel form is shaped on the case between 4 and 5 o'clock. The caliber is enhanced by the shutdown system of the crown winding mechanism by means of a button, located at 2 hours, and shock-proof system of balance.
The Dragon Gate Legend watch is available on a black alligator strap with a gold buckle.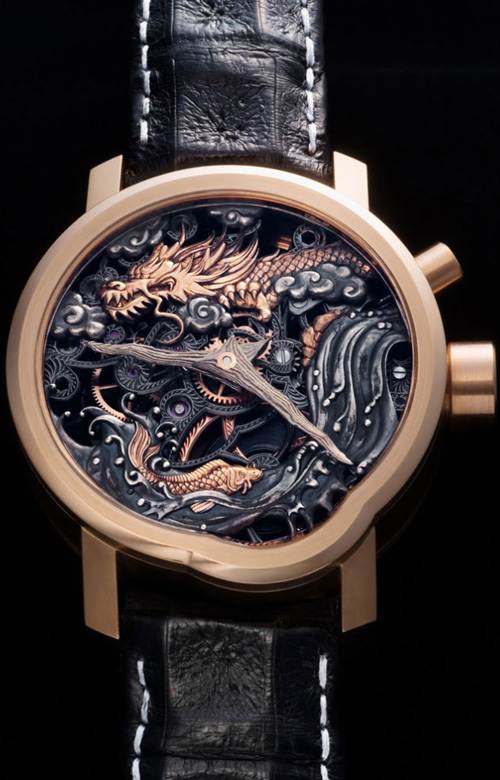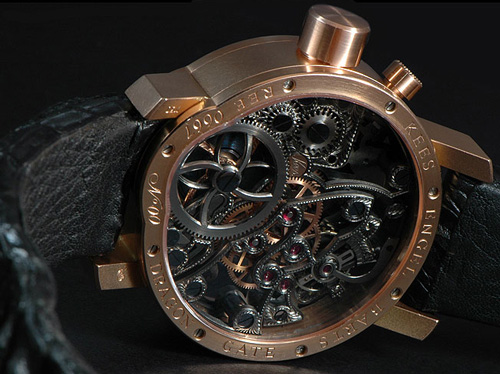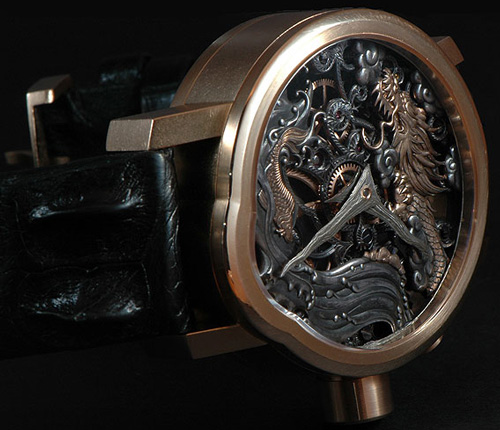 30.12.2011