| | |
| --- | --- |
| The watch company Skagen is teamed by a Japanese designer | |
Famous due to its collection of unusual furniture a Japanese designer Hiromichi Konno joined the creative team of the watch company Skagen. Together they have created a collection of minimalist watches Skagen. To creators' opinion, the minimalism is universal and equally loved by both in Japan and Europe.

The novelty is a pair of watches - for men and for women. Both models have only hour and minute hands and black dials. But then the differences begin. Men's watch is entirely enclosed in steel - from the case to the bracelet. But women's watch, despite the spirit of minimalism, in which the collection is made, has some interesting details. For instance, hour markers 12 and 6 are replaced by sparkling diamonds, standing in one line with the diamonds, which by three pieces decorate the special design lugs of the strap fastening. The front part of the female model has a black PVD coating, as it were framed in steel case's sides. It highlights the more miniature women's watch, as well as visually enhances its dial. If the male model is mainly made in rectangular lines, the angles of the women's watches cases are made rounded.

The new pair watches Skagen will be a great gift for the couple. Of course, if they will arrange such a laconic style. But the watches on his and her wrists will be perfectly combined with each other: the masculine steel and feminine shine of diamonds. The models fit perfectly under a strict dress or evening gown. The watches do not have a second hand, indicating that the relaxed atmosphere in which they are most relevant: it may be dinner or a visit to the theater - just places that do not require 100% accuracy of timing.

On the women's watches the logo of Skagen is somewhat understated in the form, as their black dial is adorned with precious stones in contrast to the male.

The watches Skagen are named after a small resort on the northern cape of Denmark, which leaves a wedge into the sea. This place is famous for the fact that it is the place of meeting with each other the two seas - the Baltic and the North. In symbolic form this connection of the two seas waters is depicted on the logo of the watch company Skagen: two towards to each other pairs of waves wedge.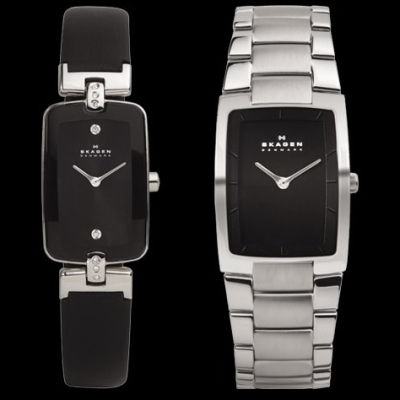 03.12.2011
Red Dot-2013 Winners
This year 11 models have got Red Dot awards, which is awarded every year. The jury appreciated the simplicity and functionality of steel chronograph Braun BN0095, which worked on the design experts from Braun Design and Studio Hannes Wettstein AG.
21.07.13 Comments(0)

Fossil has acquired Skagen Designs
In January 10 the watch company Fossil has made an official statement about the acquisition of Skagen, which is also engaged in production of timepieces and jewelry. The amount of this transaction is 225 million dollars (the money was bought 150 000 shares).
15.01.12 Comments(0)



In 1989, Henrik and his wife Charlotte Jorst left their native Denmark and moved to the United States to follow the dream: that of running their own business, to introduce the Danish life style and philosophy to Americans. In the United States, they founded the company Skagen Designs, producing luxury jewelry and watches at the attractive reasonable prices. Henrik and Charlotte Jorst Nowadays the company Skagen is an international company with head-office in Reno, Nevada, and the extensive network of the offices in Denmark, Hong Kong, Germany and the United Kingdom. The main specialized boutique is located in the small town of Skagen, Denmark. ...
Detailed information Skagen