| | |
| --- | --- |
| A New Wristwatch Neo by Meistersinger | |
A German watch brand Meistersinger is presented a watch Neo. The original watch with an attractive design has a round case with a small diameter of 36 mm. But despite the elegant forms, they are ideal for both men and women.
A new model of Meistersinger is made in vintage style of 50s in the last century. The round-shaped case is made of stainless steel and equipped on the front side with the organic glass crystal.
The Neon watch dial is made in five variants: silver-white, white, ivory, anthracite and black. The dial is modified by central hands of hour and minute and date aperture at 6 o'clock position. The additional display features of a single hour hand.
The watch is designed on the basis of an automatic mechanism ETA 2824-2 Swiss Made.
New Meistersinger Neo comes on a leather strap with stitches.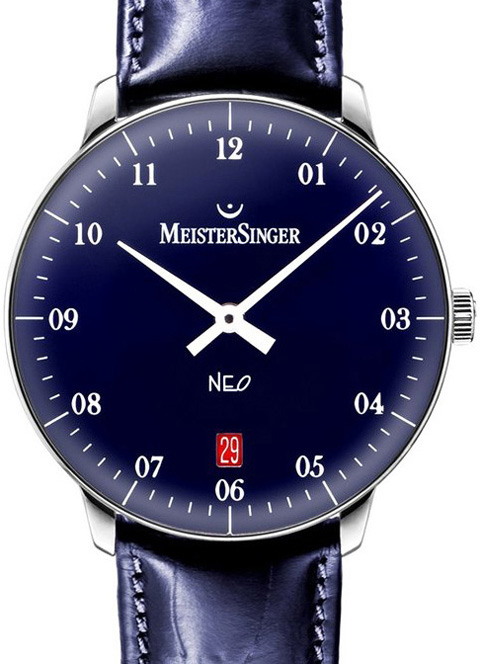 05.10.2011
Red Dot-2013 Winners
This year 11 models have got Red Dot awards, which is awarded every year. The jury appreciated the simplicity and functionality of steel chronograph Braun BN0095, which worked on the design experts from Braun Design and Studio Hannes Wettstein AG.
21.07.13 Comments(0)

Three Novelties by MeisterSinger
MeisterSinger is a German watch company, which is known on the watch market with its unique watch with a single hand.
24.08.12 Comments(0)



The MeisterSinger philosophy is an original form of time creation. MeisterSinger wristwatches are the combination of a classical watch movement and original design. Everything began with a watch with a one signal hour hand . MeisterSinger watches slightly imitate sundials and first mechanical watches that only had a one singular hand. It means the whole philosophy of creation. For most people a constant rush for time is a natural thing. A "normal" watch with two or three hands on the dial measure every second and minute. However, the starting point, from which a man realizes time as an appearance, is unknown. To the 17th century it was as natural that a watch had a one hand as two or three hands on the dial nowadays. ...
Detailed information MeisterSinger