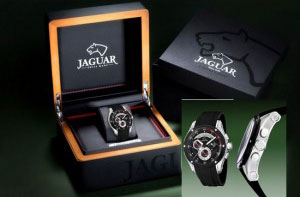 In 1938, a talented engineer,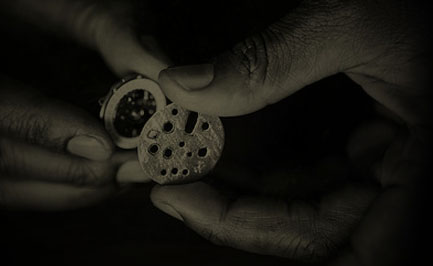 Peter Haas founded a watch company Jaguar in Switzerland. The aim was to create collections of Peter, filled with casual elegance and power of the jaguar. In watches of this brand merge reliability and classic design. Jaguar Watches are like wild jaguars, whose name they bear. The brand manufactures women's and men's wristwatches, which differ not only by powerful force, but finesse and elegance. You can spend hours enjoying elegant lines of the case and bracelet or blue dials or black magic colors, sealed with a sapphire crystal. For the manufacture of their fundamentals watch brand uses only the highest quality materials that guarantee them the reliability and accuracy.
Watches Jaguar entered the largest car holding Jaguar in the 60s of XX century. In 2003, the company released a new collection - "1938", which was specifically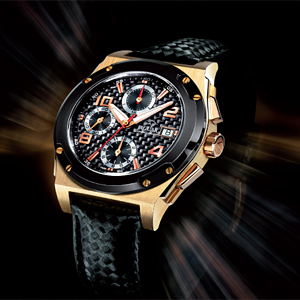 designed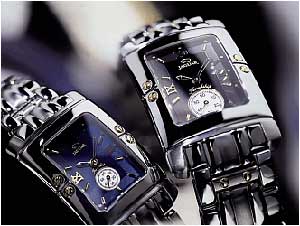 for the 65th anniversary of the watch brand Jaguar. In this collection, revived the tradition of Swiss watchmaking best masters. All watches from Jaguar are going in the studio, located in the Jura mountains. Only the best craftsmen engaged in the processing of parts and assembling watches. According to Chairman of the Board of Directors, Mr. Schwartz - "We are witnessing the continuing story of the Swiss watch company, denying all sorts of compromises. Our brand does not use cheap materials, we offer the fans of the brand the highest quality materials. " Proof of this can serve that a collection of all brands, led by a collection of "1938." All models are made of stainless steel or 18K gold, sapphire glass, which have anti-reflective properties. Hull of all models carefully polish by hand, then they establish the mechanisms and Valjoux Dubois Depraz, finalized its own factory. But this unique combination of elegant design and offers a complex mechanism, not every watch company. All models from the collection "1938" have a transparent back cover that allows the wearer to enjoy the work of movement, and ensure high quality details of it, which are installed in the case.
Since 1989, the company became one of the Jaguar brand group Festina Group, whose director is now the Spaniard Miguel Rodriguez.
Collections mark
«J612» - is a collection of sports chronographs, with cases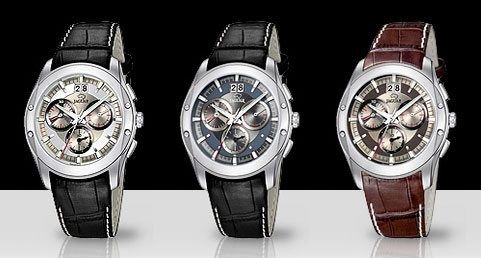 made of stainless steel 316L; they are extremely resistant to temperature fluctuations and are shock-resistant . Watches Jaguar are waterproof. Besides the main dial also has two additional subdials. Hands and watch markers are coated with a luminescent layer, which allows you to see, even in complete darkness. The dials are made of gray, black or white with a silver central area, the strap is made of genuine leather or stainless steel bracelet.
«J614» (Dual Time) - the collection includes models with rectangle cases made of stainless steel. The watches are equipped with two movements, which are governed by separate crown. Time in different time zones are displayed in two dials, which allow travelers to navigate in a foreign country very easy. Hands of the second time zone are painted in blue. They contribute to the overall concept of a model sporting touch. There are also options of white or black dial with leather straps.
«J615» - the collection includes a split — chronograph that has the function of the measurement periods. It is impossible not to notice a multilevel dial with contrasting zones, hands, and time indices, covered with a luminescent layer.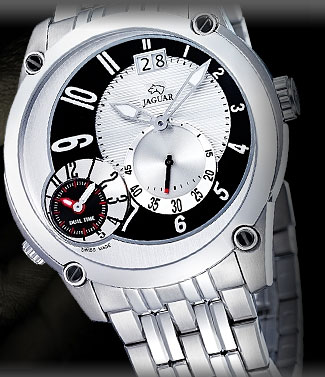 «J616» - the collection includes watch with two dials. The movement is equipped with a display of seconds and also it eatures function that allows to synchronize the watch on the radio or television reception, the official time with absolute precision.
«Acamar» - a collection of high quality and reliable Swiss watch that is offered at affordable prices. Moreover, the model of this line is no less elegant than models from other collections. Quartz movements used in the creation of these models led to a decline in value.
«Friendship» - a new collection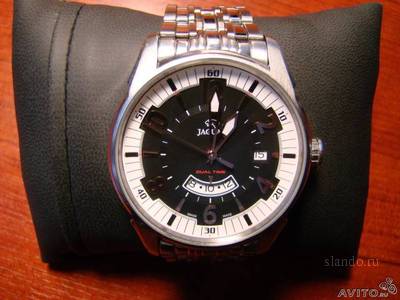 of brand Jaguar. All models of men's and women's watches are alike in design, they differ only in size. Jaguar Mark allows couples to choose a watch it is from this collection.
Designers choose one brand to design wrist watches for male and female.
The name Jof the watch company Jaguar became the embodiment of quality and professionalism.
About Jaguar watches one can say with confidence that they have their "face", because they do not look like other. Watches of Jaguar emphasize vivid individuality of its owner. Today, the company's models are more than 50 countries around the world, where you can buy watches Jaguar.