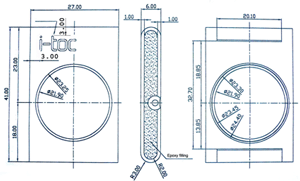 Watches from
the English i-Toc watch company represent a super-technological example of minimalistic style. The brand's creator, Sean Zoega had come a long way before realizing his idea. Initially it was rather hard to combine the designer solution with the technical "requirements". "A model's design should not harm its functionality, otherwise it becomes an art masterpiece" – Sean Zoega says. After long searches, in 2008 Sean Zoega at last creates his concept. The watches have an exclusive, radical and extremely laconic design, rendering all traditional watch attributes – the dial, the hands, the numeric indexes, etc to null. This wrist watch's singularity is that time is indicated by 2 calibrated discs. The outer disc indicates minutes and the inner one – hours.
These watch models can be worn both by men and women. The watches' rectangular cases are made of anodized aluminum (alloys anodization is an electrochemical process of acquiring a protective or a decorative coating on the surface of different alloys (aluminum, magnesium or titanium)) and are equipped with Japanese quartz movements. The watches' water resistance is 3 ATM. The straps are made of rubber.
Watches from i-Toc are made for stylish people, who appreciate bold, daring and original ideas.
The models are produced in limited editions and are a great choice for a retro-futurist. The prices for the watches vary within $100.