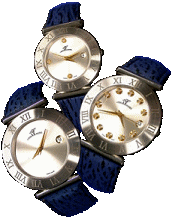 The watch brand alain LE mondial was founded in co-operation
with a family business, which is successfully active on the jewelry and watch sector. The watch house alain LE mondial produces wrist watches, which honour themselves by their simple elegance as well as their innovative design. Each alain LE mondial watch is subject to strictest quality controls, and the new watch models are generally produced in limited numbers. Despite the high quality they are not comparatively expensive that provided their success at the watch market.
The company presented many magnificent models of wrist mechanisms, for example, the Triton model. This watch case with the Roman numerals is crafted in steel. The dial is covered with the sapphire glass. The watch is provided with the quartz movement ETA. The day indicator is situated at 3 hours. The strap is made of shark leather. The water resistance makes up 5 ATM. You can this model with blue, gold and red dials.
Also the company presented the luxury model of lady wrist watches Ophelia. The case and bracelet are made of high quality steel. The gold bezel is incrusted with 32 diamonds of 0.32 carat. The date indicator is at 3 hours. The watches are provided with the quartz movement ETA. The dial is covered with the sapphire glass.
All original watches of alain LE mondial are crafted by hand, as it's the only way to create the magnificent pieces. The diamonds and high quality steel are used for creation. All models are provided with the Swiss quartz movement ETA. All models dials with the date indicator are covered with the sapphire glass.
You can buy the alain LE mondial watches at official representative offices and make an order at the official website. The official representative office of alain LE mondial for direct sales was opened in Germany in July 1, 2003.