Company Zoobee Time Teaching Watches was founded for a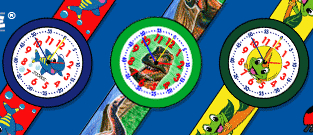 specific purpose, namely to stimulate children's interest in learning the rules of determining the time with the colorful, illustrated watches. Models of Zoobee Time Teaching Watches are unique not for quality, not by design. Each one is created so that children not only the desire to wear them, but also learn to determine the time. Watches Zoobee Time Teaching act as a role in toys and a colorful little accessory that enables children to learn a new world. The uniqueness of these watches is their design, which is made, taking into account the psychology of children. With gaming methods adults can easily teach children to tell time, in which their help and colorful dials equipped with red Arabic numerals, red hour, blue minute and yellow second hand. These colors are retained for all models, in different colors filled with only the cases and straps. The white background dials complement different pictures of animals and characters from cartoons, made in the brightest colors: elephants, giraffes, frogs, butterflies, dolphins, dinosaurs, tigers, as well as aircraft, planets, etc. The same characters and images painted on the straps.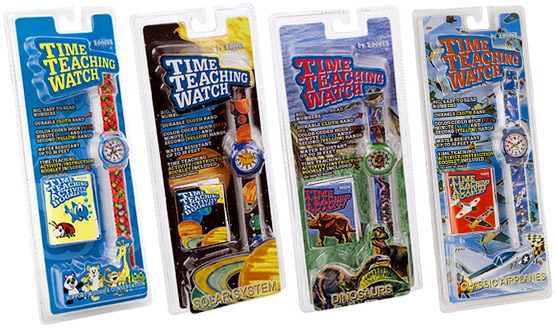 Watch Zoobee Time Teaching are also books that can help parents or teachers to teach primary school children to determine the time. This will help them in books, painted the same animals and characters from different cartoons. Why does the choice was just on animals? Quite simply, the fact that the founder of the brand Billy Darnell in childhood took a great interest in the animal, not missing a single program for them. Love of animals helped him in the future to create his company when he decided to combine a love of animals with the business. Watch line Zoobee Time Teaching Watches was launched them in 2001. Darnell wanted them released watches which helped children not only in determining the time, but they woke up to a love of wildlife. From the sale of each model Billy sends money to the World Wildlife Fund.
Colorful watch Zoobee Time Teaching Watches are equipped with Japanese quartz movement Seiko. Water-resistant of models is up to 30bar.
watches Zoobee Time Teaching Watches are specially designed for children ages 3 to 8 years. To buy Watches Zoobee Time Teaching Watches possible in specialized stores toys, souvenirs, school supplies, children's clothing. You can buy this watch also by ordering them on the official website of the company.