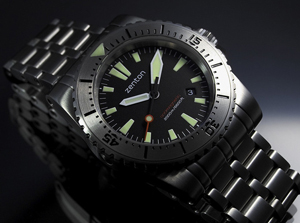 Zenton - a young watchmaker, based in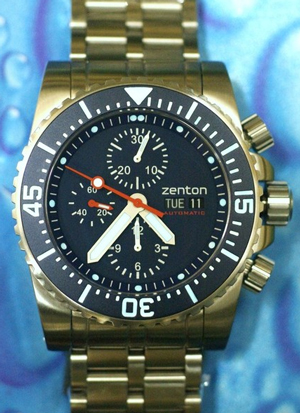 Hong Kong and specializes in producing high-quality watch for professional divers, which water-resistant reached up to 2000bar. Zenton watches produced in limited editions.
The first models released by brand watches were Zenton Diver M45 and V45 Diver Chrono, made in different versions. Watch case diameter 45 mm is made of stainless steel and equipped with steel rotating bezel. Multi-colored dials, are equipped with three-hand aperture and the date at position 4 or 5 hours, protected by sapphire crystal, whose thickness is 4.3 mm. Dials, hands and hour markers, in the form of Arabic numerals, or lines covered fluorescent substance, which allows you to see, even in complete darkness, while on land and under water. Complement the model steel bracelets with clasps in the form of butterflies. With each model are provided as two straps: leather and rubber, which the owner himself can change if necessary. Watches are equipped with Swiss ETA 2824-2 movements and ETA 7750.
Given the fact that these models are produced specifically for professional divers, the company Zenton with additional strap provides additional fasteners, screws to attach the bezel to the chassis, and more tools to the owner himself without the hassle of watches could change bracelets, buckles or screws.
Those additional details available as a chronograph with a V45. The model is equipped with the same functions. In contrast to the model M45, V45 aperture in hours dates and days of the week is located at position 3:00, and the counters to zero - in positions 6, 9 and 12 hours. Both models are equipped with a helium valve and water resistance is up to 2000bar.

Watch Zenton G45Vsled models for M45 and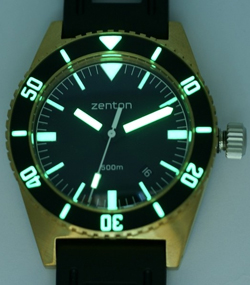 V45 released watches G45, made in two versions. Case's diameter 45 mm is made of stainless steel. Dark - blue dials equipped with four hands and hour markers in the form of lines. Date aperture is located at 5 o'clock. The dial, hands and hour markers coated with a luminescent substance. Close dials sapphire crystal with a thickness of 3.5 mm. The model is equipped with a helium valve. With the watch G45 also has additional leather and rubber straps, buckle straps, screws and tools needed. The model is equipped with a Swiss movement ETA 2836 - 2 GMT. Water resistant is up to 500bar.
Another novelty from the company Zenton is model B43, issued in limited quantity - 25 pieces. Watch case is made of steel and bronze UNI 5275, as a result it received a golden hue. The dial has three hands and hour markers, coated with fluorescent material. Closes domed sapphire crystal dial. Model complements the rubber strap. It should be noted that the watch has also a nylon strap. Model B43 is equipped with an ETA 2824-2 Swiss movement. Water resistant is up to 500bar.
Opening a Hong Kong brand Zenton issued for professional divers. The owner of this watch can be confident in their reliability and accuracy.
You can buy watches Zenton by ordering them on the official website of the company.