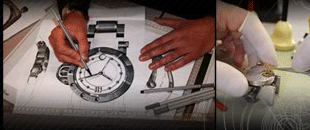 «Yonger & Bresson» - the French company, which manufactures watches for people who want to differ from the others. "Yonger & Bresson" was representative of the company «Montres Ambre», which is located in Mort. It should be noted that this city is known for industrial production of watches since 1750. And in 1865 the number of watch companies have been 2130, among which was «Montres Ambre» This company actively participates in international exhibitions. This watch brand can be seen every year at the exhibition in Basel, «Basel World».
In Montres Ambre includes the following brands:
«Yonger & Bresson», «Prima Classe», «Paco Rabanne», «Catena», «Yema», «Swisspace».
«Yonger & Bresson» is one of the most successful brands in other brands «Montres Ambre». The company has a separate staff of employees and independent budget. Designers of the company created a unique collection, which includes men's and women's watches on steel bracelets and leather straps, gold watch with diamonds. Movements of watches creating the master of Pascal Boellot, who developed and designed all the movements «Yonger & Bresson».
The collection includes brand regulator tourbillon skeleton, watches with retrograde functions, automatic with power reserve indicator, watch with automatic winding and, of course, mechanical chronographs. Company «Yonger & Bresson» mainly produces models in a classical style. This is a watch with a large dial that use steel, gold plating, sapphire crystal. Designers emphasize the elegance of the original touches of watches, for example, marking an unusual dial, non-standard location of chronometers.
Several collections of the brand, there is also sports watch with a round case, rubber strap or steel bracelet.
«Yonger & Bresson» - this is primarily an exclusive French design, proprietary tools and quality materials.
Original name even collections of the brand, and they bear the names of world famous writers - philosophers, Diderot, Flaubert, Rousseau, Montesquieu, Voltaire, and the name of the heroine of Flaubert's novel Madame Bovary. «Yonger & Bresson» - this is exclusive watches with high quality movement.