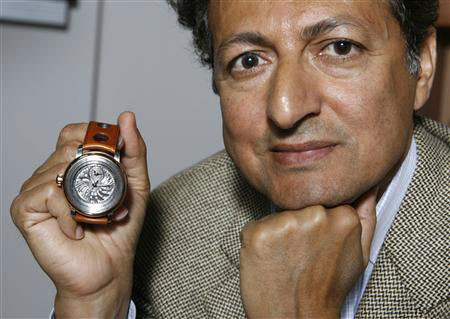 Yeslam watch company was founded in Geneva by a painter, designer and businessman Yeslam Bin Ladin. He was born in the Kingdom of Saudi Arabia where he spent his childhood. When he was a student he spent his youth in Lebanon where he at a first time payed attention to the Eastern Art.
All the time spent in Lebanon Bin Ladin promised himself that one day he will produce perfumes and many other goods of Lux class.
The first perfume called «Yeslam» was released in 2005. after in four boutiques were opened, were was sold not only cosmetics and perfumery but also some accessorized made of genuine leather, sunglasses, cufflinks, pure silk goods, and many other accessorizes of high quality materials.
Yeslam production is a result of a very skilful handmade work, amazing imagination and creative ideas.
A luxury products are the results of the company's work. A lot of a very attentive work.
It is also should be mentioned that the main idea of all Yeslam products is a faithfulness to hedonism – according to the idea of an ancient philosophers it is the main of all creature comforts and goals.
In March of 2006 Yeslam shops were opened in the Kingdom of Saudi Arabia, the same year in April a new collection of automatic watches was released. All the models had diamond incrustation and mostly were aimed to women. Such original models is an ideal combination of the East style and the best traditions. A perfect design of every model, shows the idea if the creators – bright individuality of a personality.
Aviator watch is an amazing thigh. An unusual design and extraordinarily are the main features of such watch. More over as Yeslam Bin Ladin says, the owner of this watch can even detect the speed of a wind blowing, which means that it is possible to count the speed of flying plane.
It is an ideal chronometer which can be good for pilots and people who spend a lot of time in the air. It is should be mentioned that not only the design can be reffered to the strong points of this watch, materials are the strong point as well. A massive stainless steel case is surrounded by a steel dial, which is decorated with a very complex decoration which is look like very sharp blades. An original dial is protected by a sapphire crystal anti-reflective coated.
This model can be made of white and rose gold. The bezels of all the models are movable and can be used as logarithmic ruler for real air speed detecting. Watches are supplied with an automatic movements, frequency rate 28 800vph and 42 hours power reserve. Also there is a second time zone indicator and big date indicator.
After a year when this model had been released, Yeslam presented a new modernized version of Aviator watch. The design and functions of the novelty were the same as in previous model, however there were added some new elements. A fan-shaped blades are incrusted with gems. At the position of "6 o'clock" there is a tourbillon, which makes the appearance of the watch more beautiful. There is also an automatic movement which makes 28 800vph and 110 hours power reserve. There are functions of hours and minutes.
There is also another version of Aviator watch – model Aviator Dual Time, supplied with a function of second time zone, which is shown near the indication of "6 o'clock"
Not long ago Yeslam Bin Ladin released a new model GVA'738 which case is made of titanium. That model is released in limited edition, just only 30 items.
The novelty has a bit changed design of a dial: instead of a fan-shaped blades there is a semi-skeletonized dial supplied with skeletonized hands. A retrograde indicator of date is placed between the figures of "12", "3 o'clock". Next to the hour mark of "5 o'clock" there is power reserve indicator. Power reserve is 120 hours. The model is decorated with buffalo genuine leather strap.
Yeslam watch-makers incarnated the best traditions in the model harmonically connected East and West. Yeslam watch can be bought at the official distributors.