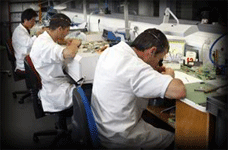 In the French city of Besancon in 1948 by Henry Louis Belmont, together with a group of young, enthusiastic watchmakers, founded the watch company Yema. Their main goal was to create high-quality watches. The avant-garde from its inception in the watch industry, the French company Yema soon gained a reputation as a supplier of reliable, high quality, daring and watches that perfectly illustrate the philosophy of "Making the best!".

Create a shockproof watches was the first of many innovations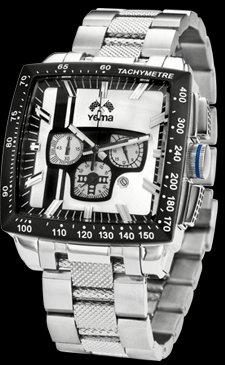 the next made by the company. Soon, in 1953, gave his wristwatch opportunity. Watches Yema is up to 200bar. In 1988, the French owner of the factory has become Japan's Seiko Group, but in 2005 the company returned to the French by Eric Louie Bekensteinera, who bought it.

In 2007 the company released the chronograph Flygraf, designed fliers and pilots. 43 - mm case is made of stainless steel, quartz movement signed. On the bezel are a brand by which we can calculate the fuel rises and direction. This model is waterproof to a depth of 50bar.
Soon the company introduced a collection of Yema Racing. In this sport collections were presented five models of watches, one of which was intended to representatives of weaker half of humanity. Cases of all models of this collection are made of stainless steel. The range offers leather strap or stainless steel bracelet.
After the collection was followed by Racing Limited Collection Master elements. The collection features two models: YMHF101 and YMHF102, which will be appreciated by true connoisseurs of great watches.

Today the company produces excellent Yema watches, which are different from the others by virtue of their unique design and technological characteristics. You can buy Yema watch through our authorized representatives.