Young company Xezo was founded in 2001, and the image of various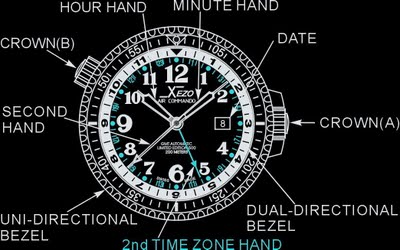 products especially for those who prefer an extravagant design, exclusivity and, of course, manual production.
Products brand logo is represented with the letter «X», as the first letter of the company name begins with that letter, in addition, it is the only pattern that is often found on river stones.
From the very beginning of its establishment, the company set a goal to create a unique high-quality products and offer them at an affordable price. Handcrafted unique brand goods are produced in limited quantity Xezo and are characterized by the exquisite beauty. Collections supplement brand writing instruments, sunglasses, leather products and watches. Brand products are characterized by rich color of Xezo range, they are known for their colorful design and unique finishes and precious materials. Exclusive watches from Xezo distinguished by their excellent design. They are a reflection of the philosophy of brand: being developed, but not just as the hour, minute and second. Time - this is the continuity of the ever-evolving form, smoothly flowing metamorphosis of harmony in every detail of watches Xezo.
Specialists who producing goods of Xezo, believe that production should follow design, and not vice versa. That is why the products of this brand is exclusive in all respects. Models Xezo limited edition - 500 pieces.
Unique Watches Xezo were born in the United States, where the boundless imagination of a talented designer can create a masterpiece on his papers. watches Xezo are made from high quality materials: 18-karat gold of different colors, stainless steel, high-tech ceramics, the British 925 sterling silver, tungsten, creating a wide range of products. Coloured dials covered with a sapphire crystal.
The next stage of watchmaking in Switzerland is Xezo high-tech equipment. Each model is thoroughly tested several times during production. Particular attention is paid to testing for water resistance.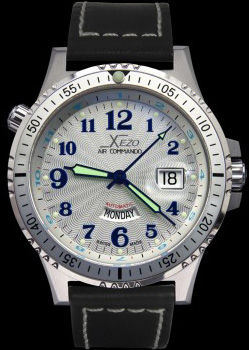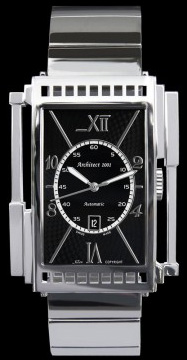 Watch Air Commando D44 Schasy Architect 2001 BA SAir Commando - exclusive watches, which brand Xezo released the 60th anniversary of the famous aviation group. Case diameter of watches - 44 mm. The case is made of 316L stainless steel and consist of three parts. Black and white dials with Arabic numerals and are equipped with three-hand coated fluorescent substance. Models are equipped with two screw-down crown, stainless steel and sapphire crystal. Water resistant of watches is up to 200bar. Watches are equipped with Swiss automatic movement ETA 2836-2, 25 stones, with a power reserve of 38 hours.
Architect - a unique model,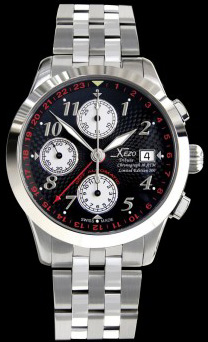 Tribune Chronograph GMT Valjoux 7754 in 2004. The idea of creating this model came in the contemplation of the ancient classical architecture, namely the Erechtheion temple ruins (Acropolis, Greece), which was built in 405 AD, etc. A unique form shown in three fronts at different levels and exquisite detail, was presented in the model, reflecting the famous temple. One of the facades shrines copy columns from both sides of the case. The upper and lower parts of the case has nine holes that resemble moldings porch of the temple. Designers have created a small masterpiece of brands, allowing to enjoy the beauty of the temple on his own wrist. Curved rectangular watch case is made of stainless steel 316L. Black guilloche dial features silver hands and roman numerals. Protects the sapphire crystal dial. Water resistant of models is up to 50bar. Watches are equipped with a Swiss quartz movement ETA 956,412.
Tribune - the male line of watches that were released in limited quantity of 500 pieces. Opening of this line are made of sterling silver. This line also includes chronographs. Silver guilloche dials closed curved sapphire crystal. Models are equipped with an ETA 2836-2 Swiss movements with automatic winding, 25 stones.
Each model of brand Xezo is the story of the brand. This exclusive and original design combined with high quality.
You can buy watches Xezo through our authorized dealers.