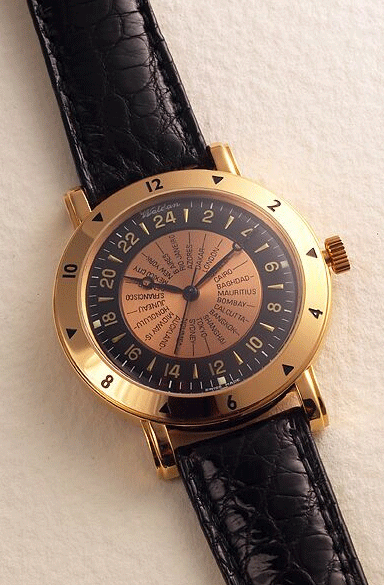 "From the beginning my goal was to offer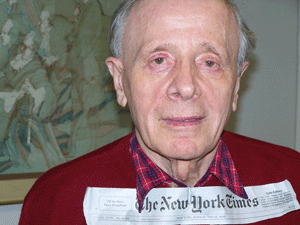 a sophisticated mechanical timepieces with exceptional quality and price." - Oscar Waldan.

A passion for watches has appeared at Oscar Waldan, when he was younger with his own attempt to clean and repair the watch of his father. "Without any knowledge in this field, I examine them and made a detailed chart showing how the individual parts of a watch combined with each other." A few years later, Oscar began to study horology in Germany. After graduation, he went to work to the best watchmakers of Europe. Soon Charles Tissot invited him to work in the Swiss town of Le Locle,. It was the first "real" work of Oscar Waldan. Being a very ambitious worker, Oscar soon began to offer the company Tissot watch their own design. He progressed through the ranks pretty quickly and soon went to work for a company Universal Geneve to be responsible for sales and vice - president of merchandising and design. There have appeared opportunity to work with a skillful master of design by Gerald Genta. With the help of Oscar has developed their own skills to a skilled designer and a watchmaker. Soon Waldan began a detailed and careful study of Rolex watches from the collection of Wilsdorf, particularly interested in specific details.

1970s marked the advent of the quartz watch industry movements. Their emergence has made significant changes in the watch world. However, instead of mastering this new technology, time, Oscar Waldan decided to focus its efforts on the study of complex mechanical watches and intended to start production of high quality chronographs and other complex movements. Oscar began to acquire and store parts of the watchwork of the best Swiss manufacturers. He knew their value and had a premonition that one day mechanical movement re-occupy the first place.

In 1979 was founded the Oskar Waldan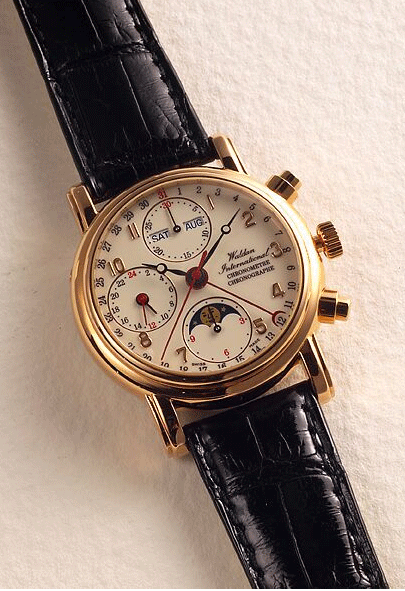 manufacture named Waldan International. In his newly created company, he started the production of some of the most beautiful chronographs made in the traditional classic design. In their production, he used only the highest quality materials such as platinum, 18 - karat pink and white gold.
For over 20 years, the company manufactures Waldan International beautiful watch for the discerning collectors around the world. The company also released Waldan International watch for some of the best jewelry stores. Its watches were sold in stores Tiffany & Co, Cartier, and Tourneau. The company currently produces Waldan International watch only the 18 - carat gold and platinum. Used by the gold color is very interesting: it is not yellow and not pink. This color was obtained specifically for the company by blending and color the company calls this Waldan Color Gold. Watchstraps are mostly made of crocodile skin, and can be a bracelet.

For example, the collection presented Astronic Chronograph in 1980 with a limited number of 2000 pieces. Now the company does not manufacture these models of watches, but there were only selling 75 pieces. Cases of these chronographs models are made of platinum and 18 - karat gold, numbering about 44 grams. Strap is made of alligator leather or bracelet. If you want to buy a chronometer of other collections, please contact the official representative of Walden International.

Today, the company Waldan International is one of the few, which is controlled by its founder and is a privately owned, which produces complex high-quality chronographs. Company Waldan International is a rarity in today's watch industry. Brand produces some of the highest quality watches in the world, but their products are worth a few thousand cheaper than watch their famous rivals. This is explained by the fact that Oscar has his own company in Switzerland. He is not focused on sales and refrains from national and international expensive advertising campaigns, he has full confidence in the words from the mouth of the proud owners and collectors of his magnificent wristwatches.