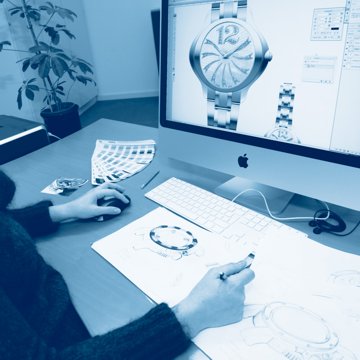 Walca is an independent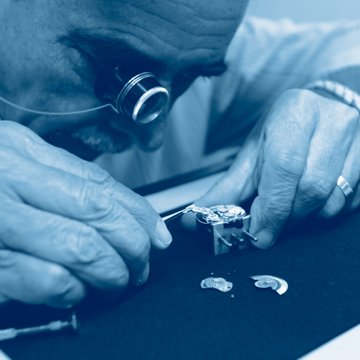 watch company which is situated in the heart of watch industry, in Switzerland. It is one of the leading manufacturers of original wristwatches in Switzerland in sector private-label, creation of watch by order. Brand was founded in 1976 by Peter Janny.
Nowadays company Walca has several buildings which are situated in different countries of the world: headquarter of the company where more than 30 specialists work is situated in Bienne, another building with 10 specialists is situated on Far East, in Hong Kong and China. The company in Far East was opened in 1994.
Brand Walca works with the aim of creation unique high quality wristwatches appropriated all requirements of Horology. There is a success of all brands.
Nowadays the brand works in close co-operation with many well-known watch brands. As a result of this co-operations produce fashion exclusive models, which took its place on the watch market. Besides, the company co-operated with future owners of watches. It gives an opportunity to specialists to make exactly the model which owner was dreaming of, and client buys not only watch which is made from high-quality materials, but also made for their own will, style and design. Group from best specialists help everyone in making any model. Thus, brand don't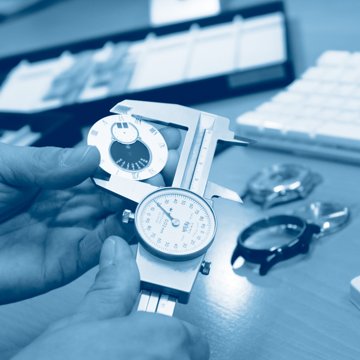 changes their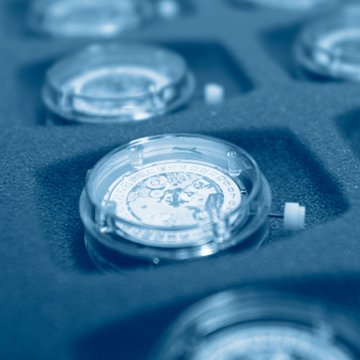 philosophy and try to enrich their collections with new and unique models. The strategy which is chosen right helps to understand what exactly production needs watch market. The aim of the company is in development and production exclusive models with the help of innovation technologies to please requirement even unpredictable and demanding clients. A unique product produces as a result, which don't have analogues. All models of Walca brand undergo quality control and meet the stringent requirements of watch industry.
Collections of the brand are supplemented with different wristwatches: skeletonized, classic, sports. Masterworks of these collections are models made from 18-karat gold of different shades.
Exclusive-luxurious men's models, equipped with Swiss skeletonized movements. Cases of watches diameter of 42,5 mm, made from 18-karat gold. Skeletonized dial are covered by scratch-resistant sapphire crystal. All the beauty of skeletonized movement shows back case from sapphire. Models are complemented with leather straps with gold clasps. Water resistance of watches is up to 30bar.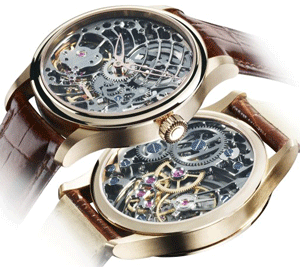 Central-elegant watches,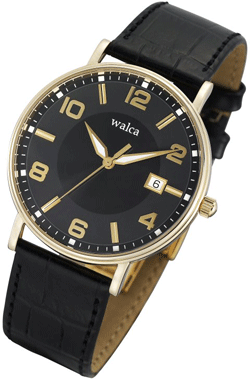 which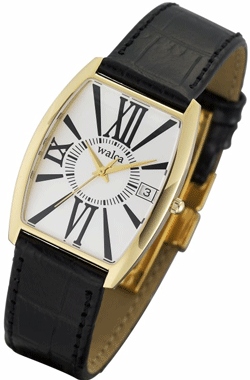 are equipped with Swiss quartz movement. The diameter of case is 40 mm, case is made of gold. Black dial is equipped with Arabic hour marks, three hands and aperture of the date at the position of 3 hours, covered with sapphire crystal. The strap is made from natural leather. Water resistance of the watch is 30bar. Total weight of the watch 21,3 gr. There is also women's version of this model, which weight is 18 gr.
Tonneau is another exclusive model of Walca company, equipped with Swiss ultra-thin quartz movement. There are men and women versions of this model. The case of watches are made of gold, white dial with Roman numerals and aperture of the date at the position of 3 hours. The dial is protected by scratch-resistant sapphire crystal. The model is complemented by leather straps. Water resistance is up to 10bar. Total weight of men's watch is 15,6 gr., women's-10 gr.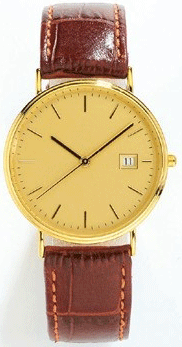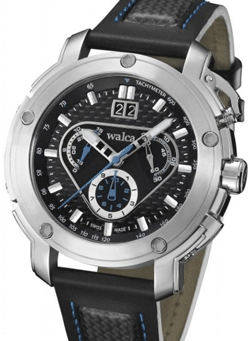 Basic-this model is made of gold, diameter of the case is 35 mm (men's watches) and 26 mm (women's watches). Gold dial is equipped with hour makers as lines and aperture of the date at the position of an hour. Harmoniously combines leather brown strap with gold dial. The model is also equipped with quartz movement. The weight of watches is 12 gr.-men's version and 10,5 gr.-women's model.
Except models with gold cases, there are also stainless steel watches. For example, watches Big Date Chronograph, equipped with Swiss quartz movement. Case of chronograph is made of stainless steel. Black dial made of carbon is covered with thick sapphire crystal. Hour marks and hands are covered with fluorescent substance. Aperture of the date is situated at the position of 12 hour. Leather strap with carbon insertion and steel clasp are complemented with the model. Water resistance of the watch is up to 100bar. Swiss company Walca provides an opportunity to choose everyone a watch by their taste or order it in leading specialists of the brand.