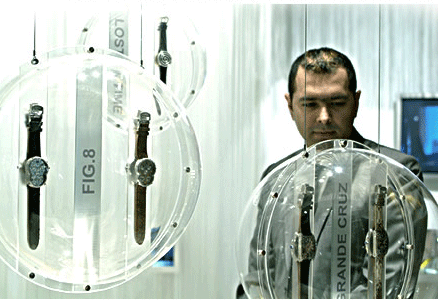 "Revolution - is no small thing, but it arises from the small things."

Founder of watch brand Voila Roger Khemlani was born in colonial Hong Kong. He spent his childhood between Hong Kong and India, where he studied ancient languages and the art of these two ancient cultures. This bicultural upbringing laid in it a broader approach to life and business, which today is evident in his works. Entrepreneurial spirit was characteristic of his family and was always a strong side, Roger Khemlani. At the age of 30 years, Roger has developed and released many models of watches for the luxury of such companies as Yves Saint Lauren, Ted Lapidus and Carolina Herrera. Soon the enthusiasm and passion have allowed him to make a revolutionary step in the design of wrist watches.
In 2002 he founded the manufactory of Voila and presented the first own collection of watches Op-La under this brand. The basis of brand names formed the famous French expression VO! LA, which means "Here."

In 2003 the company introduced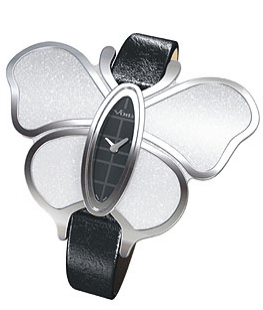 a collection of watches FIG. 8, symbolizing the eternal prosperity. The steel case of this chronograph from the three time zones is made in the form of figures 8 and encrusted with colored diamonds and sapphires.
In 2007, in honor of its fifth anniversary, the company released a collection called Collection No.V. Steel and platinum casing of the quartz watch is made in the form of the Latin figures V. The model is encrusted with diamonds or sapphires. Polished face covered with sapphire crystal. Strap is made of black leather python. Minimalist in design, this model represents the simplicity of the time.

In 2008, Voila, in honor of the Olympics in Beijing in 2008, has released a rather peculiar model of a watch «National Stadium», also known as the "Bird's Nest." The case of this unique model is presented in steel and gold version, and there on the strap insertion of Chinese silk. Cases of luxury watches are made of steel. The model is decorated with diamonds of 0.23 carat or 0.72.

And in 2009 the company released a collection named Voila «Oriental Breeze», the model which is a product of a delicate hand with the images of relics east. Enamel dial is covered with faceted crystal. This model is water resistant is up to 30bar. Today, the company's goal is to achieve and create of such a design embodiment of a wristwatch, to which could be based watchmakers future generations.