Nowadays watch market is rich with original wristwatches made of different materials. Vivienne Westwood watches - is a new word in the world of watch making, the innovative original design, allowing each to make a choice on his or her own taste and desire. Vivienne Westwood watches have their characteristic feature and made for people who are looking for something unique and exclusive. Vivienne Westwood - Vivienne Isabel Suayr is a British designer, founder of punk style in fashion.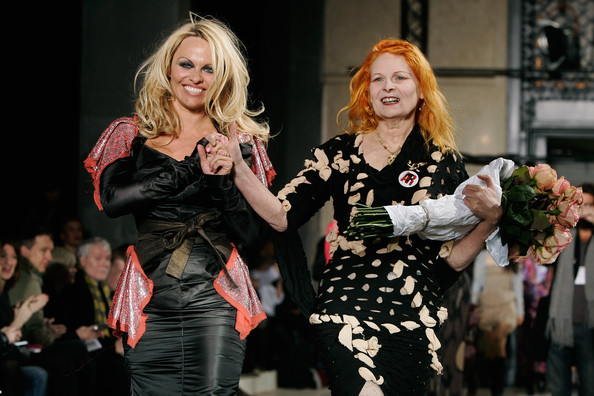 Pamela Anderson and Vivienne Westwood
Vivienne was born in April 1941 in Tintvisle, England. At age 17 she with her family moved to London. There she graduated Pedagogical College, after which one semester she was studying at art school in Harrow. Family in which she was born, was extremely poor, which is why she married according to the principle - for anyone but far away from her family from the nightmare of poverty and hunger. First husband of the future designer was Derek Westwood, with whom she divorced after three years of living together. Vivienne was left only with his surname which, incidentally, sounds very nice, and which later became famous throughout the world. In 1970 there was a rock for her meeting with student Malcolm McLaren, who studied art history. The producer of the famous scandal «Sex Pistols» has become future inspirer of punk style. Vivienne lived with him for 13 years. He became her "spiritual father", awakening interest in the design.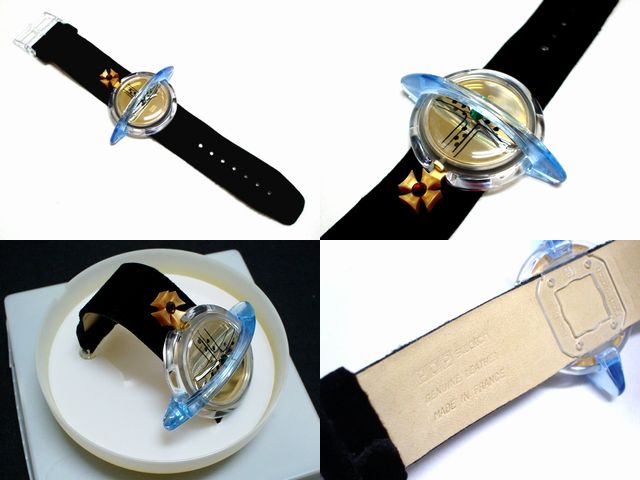 Vivienne Westwood watch
In 1971 Vivienne Westwood began to engage seriously in design, this year she opened her first clothing shop Let It Rock (1971-1973), later renamed in Too Fast To Live Too Young To Die (1973-1974), and then Sex (1974-1976). Westwood and McLaren felt the decline of the hippie era, and began looking for new styles, inspired by street fashion. After the store was renamed «Sex», it started selling 'rubber clothing' and clothes in the style of "punk." Already in 1981 the designer has created a new collection of clothes under her own name, began to participate in the London-week of prêt–o-porte, and two years later - in the Paris shows. Westwood has renamed her boutique in the "End of the World," appealed to the art of cut and carried away the historical transformations of suit.
Later collections of Westwood gave rise to new styles in fashion: "The New Romantics," "Pirates," "Savages," "Rolling Stone". Later another style of "rags and holes" has appeared. Vivien showed collections-parodies of fashionable clothes: stitches out, loopholes and loose loops, hats of burlap decorated with feathers, hair of mannequins smeared with mud. In 1987, she showed a collection of parodies of the royal mantle and Scottish dress, which showed a fat woman with makeup smeared across the face with a tattoo on their shoulders. For provocation, parodies and attacks on the foundations of fashion not all noticed virtuoso cut of models, inventive finishes, impeccable execution and the fact that unlike many men designers these things adorn a woman.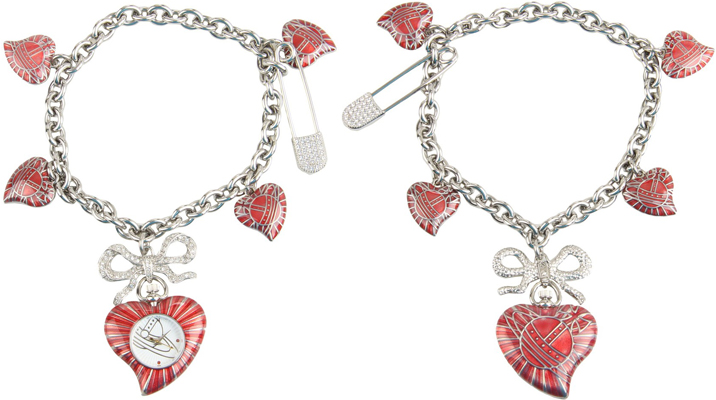 Vivienne Westwood watch
In 1990 and 1991, Westwood was the "Best Designer of the Year" in Britain. Collections of Vivienne often generated new trends in fashion of 80s. In 1998, has been established the joint venture with the participation of Japanese brand «Itochu» to promote the products in the U.S. and Japan. Subsequently, Vivienne Westwood began to produce not only a collection of clothes, and perfume, as well as various accessories for women and men. In each product of this company feels a strong character, originality, uniqueness. They reflect current fashion trends. A special place among the accessories Vivienne Westwood took a wrist watch. Vivienne Westwood collection of watches includes a wide variety of models presented in different cases and colors.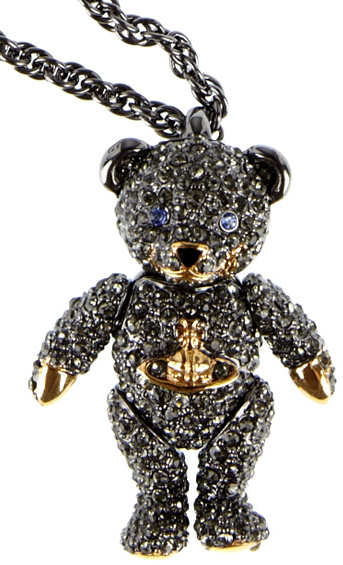 Teddy bear by Vivienne Westwood
The original Vivienne Westwood watches, decorated in a variety of design versions were presented at the World Exhibition BaselWorld 2012. At the exhibition were presented watches from the new collection. These include models of Ceramic, Union Jack, Tartan, Cube in round, square, rectangular buildings made of ceramic, titanium and other materials. In each of these novelties can feel certain elegance, sophistication, excellent combination of different materials and stones, which give the watch an exclusive look. Ceramic watches are the epitome of elegance and sophistication. The novelty, presented in a round case is made of white titanium. The dial of this model is made in white gold and is equipped with hour markers and hands. Brand's name adorns a white bezel with gold scalloped tips. With white color of the case and dial perfectly harmonizes white ceramic bracelet.
In another model, called Cube designers have chosen other colors. The square black case perfectly harmonizes with the black strap. Instead of hour markers are inserted crystals Swarovski. Originally look three central hands, the second hand of which is made in the original design: the tip of the hand has a small heart.
As for the model Tartan, here is the whole secret in it title. "Tartan" - is ornament formed by the twill weave, pre-painted in different colors. The result is a checkerboard pattern consisting of horizontal and vertical lines, and rectangular areas, which are filled with diagonal stripes. Scottish tartan is used by designers to create different products. The model Tartan of the company's Vivienne Westwood is presented in a round case and dial with unique patterns of tartan. The colors are used on the dial and the strap that complements the look of watch.
Union Jack watch is another novelty from the collection of Vivienne Westwood. It is presented in a rectangular case. Gold-plated case looks original with gold Roman numerals. The entire dial is decorated in the shape and colors of the flag of Great Britain. Model comes on a leather strap in black color...
Novelties, and all models by Vivienne Westwood combines unsurpassed design. They are equipped with Swiss mechanisms that ensure the accuracy and reliability. Vivienne Westwood watches - are the embodiment of strong character and boundless imagination. To buy Vivienne Westwood watch you can watch in different colors variations. The new watch presented at the international watch and jewelery exhibition BaselWorld 2012 will be available in autumn 2012.