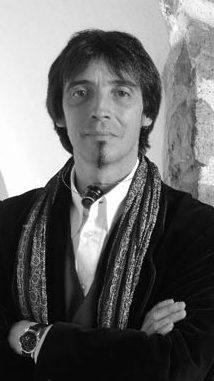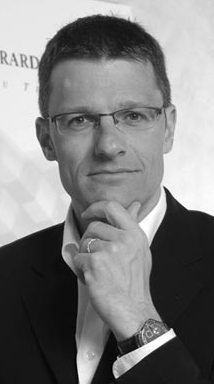 Swiss watch factory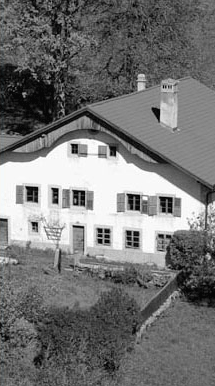 Vincent Bérard was founded in 2003 by French watchmaker Vincent Berard, who was involved in the restoration of antique watches in Switzerland for nearly thirty years. He founded his own brand and began production of pocket watches. However, in October 2006, Timex Group acquired Vincent Bérard, which was located in a small building in La Chaux-de-Fonds. After that brand the beginning of Vincent Bérard produce exclusive mechanical watches, and Timex Group, concerned that the brand began to expand the building and hired a new watchmakers and designers. A year later, there was the first joint collection of watches Vincent Bérard, the price range of models was $ 70 000 to $ 150 000.
However, the company Vincent Bérard was the "victim" of the global financial crisis. Brand has been closed, its employees, including Berard and CEO Herbert Gautshi were fired. After that, a member of the board of directors of Vincent Bérard, Daniel Daudin, who is Deputy Managing Director of the French watch company Opex SA, which is part of Timex Group, said: "The financial crisis and economic storage is not allowed our group to make a profit from the sale of watches. As a result, our company has not yet reached commercial purposes, and significant losses."
However, neither Timex Group, nor other company has been able to restore the old position of Swiss company Vincent Bérard.
The founder of this brand talented watchmaker and designer Vincent Berard created a unique model. He is the real creator, who was inspired by nature. Artist-watchmaker takes the wind and snow, rustle of leaves and the roar of the surf and bright sun shining and light midnight, confuses them, puts into his work, which becomes a reflection of the universe. That is why collectors and amateurs of watches do not go past the watches of Vincent Bérard. Masterpieces of the brand combines superior craftsmanship and unique watchmaking aesthetics.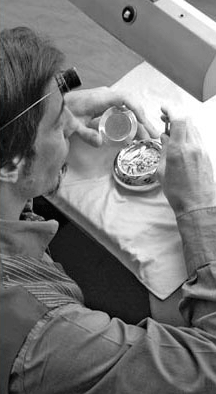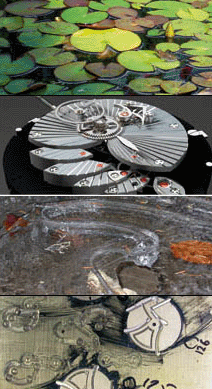 The first pocket watch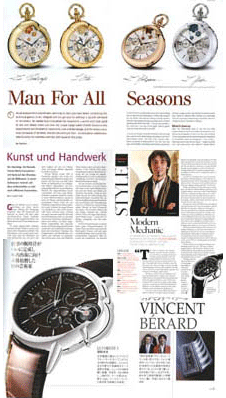 developed a master Berard, are watches, symbolizing the four seasons: spring, summer, autumn and winter. Were then released watch of these models, cases, dials, fasteners are made of 18 carat gold. For the model of "Spring" master chose gold green, and on the dial instead of the hour markers take the emeralds. Watch "Summer" made of yellow gold and decorated with yellow sapphires. Model "Autumn" is made of red gold, adorned with rubies, dial, and "Winter" - white gold with blue sapphires. Complementary models thongs, consisting of two layers sewn by hand. The lower part of the straps is made of alligator skin, and the upper part - of velvet green, yellow, red and blue colors.
An interesting of design dials is made by hand. They have two openings in the form of bells, by which movement is open. Vincent Bérard watch manufactory is equipped with a manual movement for plant VB441, frequency 21,600 vph. At 3:00 position is a balance to the coil and generates a feeling that is deprived of the module running and lever-wheel drive. At 9:00 is the position of the crown. Ten-day power reserve provides the mainspring. The manufacturing machinery is equipped with the following functions: hours, minutes, seconds, days, weeks, lunar cycles, power reserve indicator. Watch of this series, released in a limited number,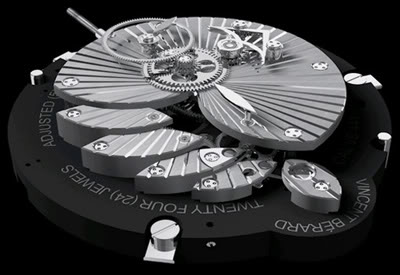 each model has its own serial number.
Watchmaker has always maintained that "the idea is not to shake the foundations of watch industry, the movement 441a VB to find the best continuation of its traditions, interpreting them in a modern key using currently available technology."
Collection of watches of Vincent Bérard supplemented unique models made from high quality materials. At skeletonized dials, which guilloche central part have the original hands and hour markers and chronograph counters in position 1 and 9 hours. The crown has changed its position, it is located at position 9:00. All watches are equipped with Vincent Bérard manufactory VB movement 441 with a frequency of 21 600 vph, power reserve of 10 days, the moon phase indicator, functions, hours, minutes, seconds, days, weeks. There are two versions of this movement: 18-karat gold and platinum 750.
Unique and exclusive watches from the master Vincent Berard - this peerless design and original style. Watch brand Vincent Bérard will be confirmed and bright personality will become an inseparable part of a collection of watches enthusiasts and collectors.