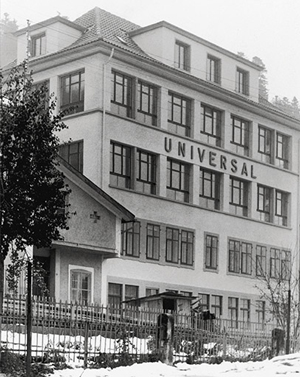 Watchmakers Ulysse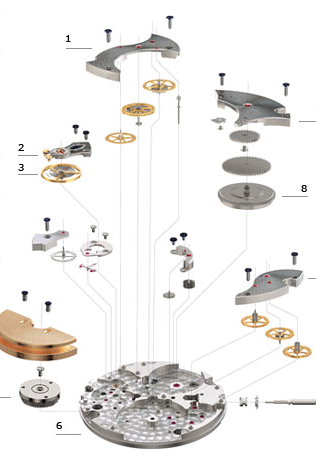 Georges and Numa Emile Deskomp in the Swiss town of Le Locle in 1894 founded a company that produces watches. A little time later, the company's products won not only domestic markets but also overseas.
In 1897, after the death of Emile Deskomba, Ulysses S. Perret has teamed up with Louis Edouard Berthoud, who made the pocket watch. In 1898, the watchmakers have created a movement of chronograph Universal Watch Extra, which is equipped with a 30-minute counter. Presentation of the first wrist chronograph company was in 1917.
In 1934 the company began a new stage of development. The company changed its name to Universal Watch and opened its headquarters in Geneva.
The company became Universal Watch to produce complex and elegant chronograph models: a model Polerouter (1954), Tri-Compax (1930-40), while the smallest female chronograph, Aero-Compax, which has 4 sub-dial and Compax, equipped with 30 - minute and 12-hour counters. The company also produces the caliber Microrotor UG 66 (1966), which is equipped with a column wheel. All of these inventions have left a deep mark in the watch industry of the time.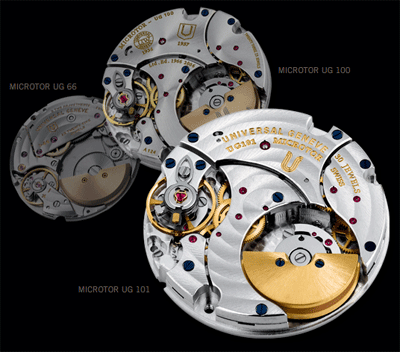 60s for the company were with continuous innovation. The thinnest quartz caliber in the world was released by in 1975, which was then called Universal Geneve.
In the 80's and 90's Universal Geneve company has received international recognition and has mastered the markets in the Middle East, Italy and Southeast Asia.
One of the most popular watch collections Universal Geneve is Golden Shadow, which has a sleek design and is equipped with an ultrathin Swiss quartz movement.
Men's and women's collection Okeanos were produced by Anthea in 2005, and in 2007 the company produces caliber UG 101.
80 years after the launch of the model Cabriolet (early watches of turning case), the company Universal Geneve at Baselworld 2008 presented a model Microtor Cabriolet, equipped with a movement UG 101 calibre with a displacement of the rotor winding.
Universal Geneve watches are manufactured to the highest standards. Raw materials shown after a thorough review. Every watchmaking company is trying to achieve perfection in the manual finishing and watchmaking.
The company annually produces Universal Geneve small number of models, but each of them takes pride of place on an watch Olympus.