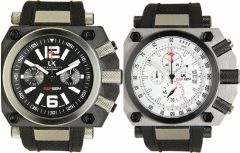 Uhr-Kraft is German watch company. The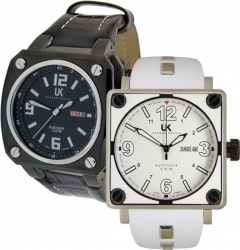 company Uhr-Kraft was founded in 1999 in Essen (Germany). In a short span of time company has managed to take the place of honor on the watch market, thanks to the original modern design, high quality of their models. Note that all of this brand offers an affordable price.
From the very first day of the opening the founders of the brand Ralph Lehr and Thomas Shercom decided to develop such models, which are not missed. The founders managed to surprise many, in fact, the first collection of watches was sold within a month. Collection of watches Uhr-Kraft is frequently updated with new unique models. While creating each model, the founders of the brand are working on design and quality. And to say truly new in the world of watches, it is necessary to develop an original design, which is a daunting task. Today, it is safe to say that the founders managed to cope with the task, as the watch Uhr-Kraft charm to its excellent design. They are delicious and popular accessories. The uniqueness of watches Uhr-Kraft is in the original design, which feels a sense of reliability and confidence. The original appearance - this is not the only advantage of brand watches Uhr-Kraft. The company also pays much attention to the technical equipment of their models. The next advantage is the reasonable price. Value for money - the most important advantage of watches Uhr-Kraft.
The most famous lines from the company Uhr-Kraft - Collection AirCop, Spring and Stanford UK, which represent the male model. The first line includes AirCop chronograph with a stopwatch, a case made of high quality steel and polyurethane strap. Some models are equipped with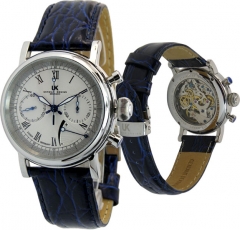 this line of mechanical and other quartz movement.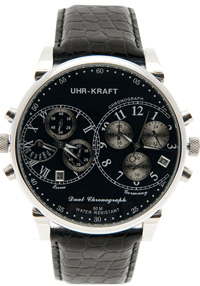 The main distinguishing feature of the models in this line is their unique design, which is an imitation of the unusual watches of airmen during the Second World War.
Stylish watches, as models of the line AirCop, but the design of this watch is light and creates a sense of security and peace of mind. Cases of models are made from high quality steel, which complement the leather straps.
Dualtimer - one of the collections of the watch company Uhr-Kraft. The watch of the line stainless steel coated with an IP different shades. Models are equipped with mineral glass, leather straps, and Japanese quartz movement with second time zone function. In this collection are also chronographs with two time zones. Water resistance of these models is up to 50bar.
Collection of Uhr-Kraft also complemented exclusive tourbillon models that were released in limited quantity - 200 pieces. Cases are made of stainless steel with IP coating, originally made the dials of different shades are protected with a sapphire crystal. Water-resistant of watches is up to 50bar. Models are equipped with mechanical tourbillon movements TY 800, located at position 6:00.
Original and unique model of a German watch company Uhr-Kraft can become a reliable friend of the owner.
You can buy watches Uhr-Kraft at authorized dealers, as well as ordering them online.