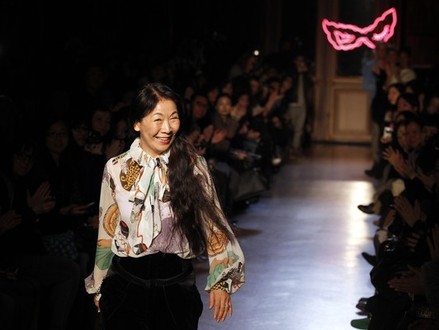 The name of Tsumori Chisato is known since 1976. A Japanese designer Tsumori Chisato who was born in Saitama (Japan). She started her career more than 20 years ago when he was a designer of sport clothes made for Issey Miyake brand.
Her own company I.S.Chisato Tsumori Design was opened in 1990. In 2003 the first collection of clothes was released in the International Fashion Week in Paris. It was the beginning of fame and popularity all around the world.
When she was a girl she made clothes for dolls. Mother payed attention to her daughter's hobby and insisted that she should study and become a fashion designer. In 1976 graduate from college of fashion Bunka Fukusogakuin which is widely known in Japan.
Tsumori's talent was noticed by Issey Miyake, who offered her to work in his company.
Later Tsumori understood that she wants to open her own company and to make different clothes of various style of own brand. So, in this way I.S.Chisato Tsumori Design was founded.
Issey Miyake is Tsumori's teacher. She always tells that Issey's advise are the most valuable for her. Tsumori says that she likes to make experiments and she does not listen to anybody, Issey he is the one who she listens to every time.
Tsumori sometimes confesses that instead of sleeping she is constantly working. To her mind talented people always have something to say to the humanity, but 24hours a day is not enough to do it. Tsumori always has a will to show her original clothes and accessorizes to the World in order to pay everybody's attention to her boundless fantasy. Today Tsumori's talent is a center of Japanese design.
It is should be mentioned that the ideas of Tsumori's creative thinking are reflected not only in produced wear, but also in collections of foot-wear which are produced by her husband. Foot-wear is produced bu another brand Tsumori Chisato Walk. Tsumori never limit the age of hes fans, she never tries to change their outlook. Joy and humor can be found in all her collections which are quite ironic but at the same time lovely and fine. Her clothes always have all the colours of the spectrum which compound Eastern spirit and Western spirit together. All Tsumori collections are full of romanticism, imagination, and originality. Handmade is one of main particularities.
Now Tsumori Chisato produces male and female collection of clothes, underwear, foot-wear, bags, belts and jewellery. In 2006 together with Seiko, Tsumori started to produce watches.
Tsumori Chisato original models attracts by very unusual design. At first they look like kid's watch, but if you look attentively you can see that original bracelets are very elegant, cases are made of stainless steel, sometimes decorated with zircons, and remind different things: cat's head, turtle's head, flowers, ribbons and balls.
Some models are supplied with genuine leather straps. Nacreous dials of different colors are supplied with three hands. Numeration can be Arabic and Roman. Dials are protected by curved mineral crystal.
Watches are water resistant (up to 10bars). Tsumori's watches are supplied with mechanic calibers based on 21 gems of quartz movements: SR521SW, SR626SW, SR920SW, SR621SW, SR512SW.
Tsumori Chisato company has more than 40 shops in a number of countries all around the World where anyone can buy clothes, foot-wear, jewellery or watches according to one's taste.