The world-famous Lamborghini brand has become an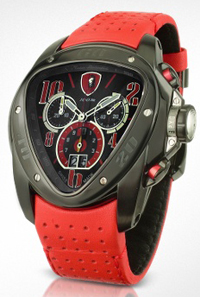 essential part of the Italian culture and its contribution to car manufacturing, sports, aviation and fashion industry is absolutely priceless. But the car manufacturing company founder's son, a young designer Tonino Lamborghini didn't follow his father, Ferruccio Lamborghini's steps. In 1981 he set up his own brand, called Tonino Lamborghini, with his pieces' design and color scheme resembling his father's cars' design.
Having conquered the European markets, the company has extended its boundaries and in 1983 a brand's shop was opened in Hong Kong and in 2 years' time there was a well-spread dealer's network all over Asia.
At the beginning of the 90-s along with leather products, the company starts producing coffee, balsamic vinegar, olive oil and other top quality gourmet items.
It's remarkable, that the European market's conquest started with wrist watches. The bold avant-garde design, the dazzling color range and the incommunicable power, embodied in the first collection design have got the brand to the top of popularity and fame. The Lamborghini sports cars' design has literally become a well of inspiration. The Italian designer used 3 main colors: yellow, black and red. This color range, associating with the cars' designs still dominates in Tonino Lamborghini's watches.
In his new Spider collection's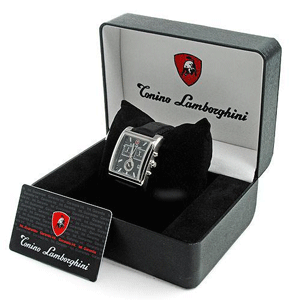 colorful avant-garde design Tonino Lamborghini has embodied the modernistic tendencies of contemporary watch art and his exquisite approach of portraying the Lamborghini cars' silhouettes in the triangle watch cases. The collection's model lineup is based on Swiss movement with the chronograph function. The Italian watches' cases are made of stainless steel, some of them are covered with PVD coating and pink gilding. The black dials stand in stark contrast with the large-scale red numeric notations, written in Arabic digits. The brown dials harmoniously combine with the nacreous notations. The models' dials have a 12-hour meter and a date aperture at the "6" numeric notation, a 60-minute meter at the "2" numeric notation and a 30-seconds meter at the "10" numeric notation. There's a company logo engraved at the "12" numeric notation. The bezel is connected with the case with 6 screws.
The models come with natural crocodile leather straps of black and brown colors or a high quality red rubber strap. An elegant black case completes the model's luxurious look.
Tonino Lamborghini company has been producing premium class items for 30 years. The ideal combination of price and quality, the unique avant-garde design and the models' multifunctionality are the best motivation to buy an Italian watch from Tonino Lamborghini and highlight your vivid image among your surrounding.