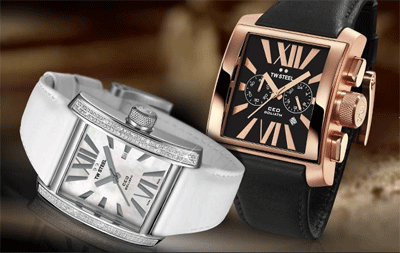 In 2005, the first watch collection by TW Steel brand was presented. This company has won the recognition on the market of very large wrist watches and established its network of stores in more than 50 countries all over the world. One and all TW Steel watches are made of stainless steel, hence the brand name – "the steel watches." The company specializes in the creation of the watches with the cases of large diameter, that are based on the Swiss or Japanese technology, depending on the type of watches. These watches are water resistant up to 100 meters (10 bars). The diameter of the dial varies from 37 mm to 50 mm. The watch hands and numerals are made in such a way, that they are clearly viewed. This is the Dutch company, that has turned into the family business.
The main idea consisted in the following: to make the stylish, high-quality and beautiful watch, but sold at the affordable prices. The distinctive feature of TW Steel brand is the watch of the sporty design with rather a large dial.
TW Steel company has a wide collection of watches for both men and women. It was a great surprise, when the watchmakers created the unisex watches, because the developers were sure, that these watches would be highly appreciated. The Grandeur Regular collection consists of the wrist watches with the massive steel cases and the straps, produced from python leather. There are optionally some rose or yellow gold-plated models.
The distinctive feature of watches from Canteen Style collection is the steel crown cap, attached to the case with a special hook, protecting the watch movement. This cap increases the solidity of the case and does not allow water to penetrate into the winding mechanism. In 2009, TW Steel products were depicted on the R29 cars of the Formula 1 Abu Dhabi Grand Prix, and in 2010, the company put its logo on the riders' suits, as since 2010 till 2012, the brand was the business partner of Formula 1 Renult team. TW Steel company cooperates with different sports companies and sportmen, such as Tommy Robredo, the world famous tennis player and the official representative of the new watch collection by TW Steel. TW Steel watches are known in more than 25 countries worldwide and the company is a leader in the production of large watches. It is safe to say, that today TW Steel watches are very fashionable and relevant.