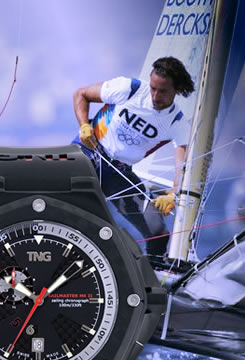 TNG brand is a Swiss watch company which was founded by Herbert Dercksen and Frans Dingerdis.
Herbert Dercksen is a Holland seaman who became a champion of Holland and later he became a champion of Europe and finally he was awarded by World Championship award. Together with Frans Dingerdis in 1998 he founded Tack & Gybe International BV company which is also known as TNG.
Sport watch made by Herbert Dercksen and Frans Dingerdis reflect old customs and traditions of Swiss horology and cam be called a incarnation of sailing sport.
TNG watch are chosen by sportsmen and people who are fond of adventures. Watch models made by TNG Swiss watch company are functional, high quality and accurate. Today many sportsmen famous all around the world choose watches made by TNG which makes a wonderful blend of perfect sportive design and high quality. TNG watch models are made especially for sportsmen. Swiss watch company takes into account the fact that the owners of TNG watch could encounter very difficult and challenge situations.
These models can work even in very complex conditions despite temperature drops, salt water, high speed of frequency rate. Sportsman's watch should require all the demands of the owner in order to help him overcome all the difficulties and win. That is why TNG watch are supplied with all necessary and complex functions and made of very reliable materials.
At the present time TNG watches took their title place at a World horology trade. Reliability and functionality are not the single qualities which posses these models. TNG brand also thinks about the design offering a very rich color range and assortment which lets everybody to choose a suitable model according to one's taste. There should also be mentioned that at first TNG watches were created especially for sportsmen who is fond of sea-navigation.
Nowadays TNG company supplies one's watch with a number of functions, thanks to which they can be a real flagman in any sport. TNG watch are chosen be sportsmen all around the world who is fond of snowboarding, skiing, alpine skiing, surfing, mountaineering, tennis and other sports. From the time of foundation till the present time TNG watch establish a reputation as a very reliable and accurate watch supplied with all necessary for sportsmen functions.
Perfect TNG watch models are released by two collections: Trend and Sport. Each of these collections includes a number of series. Trend collection watch models' cases are made of stainless steel gilded and PI-coated. Dials are colored in different colours or made of carbon. Crown are placed around bezels which can be made of various materials and can reflect different ideas of TNG designers. Evert TNG watch model is supplied with sapphire crystal at the front side and at the back side as well. All the watches are water-resistant (up to 100 meters) and are supplied with Swiss movements: TG-893BS, TG-690, TG-686, TG-618, TG-667 which have date indicator right after the hour marks. Also TNG watch possess a number of different functions.
Sport collection includes sport models made of stainless steel and gilded stainless steel. Ordinary models and chronographs are released in this collection. Dials of different colours are supplied with three hands and luminous coating, date aperture, chronograph counters located near different hour marks.
Some models have bezels are incrusted by diamonds. Dials are protected by sapphire crystal. Watch models are water-resistance (up to 100 meters). Also TNG models which are presented in Sport collection are supplied with a number of different functions: countdown, second time zone indication, and 24-hours indicator, chronograph, date indicator and other useful things.
TNG models released in Sport collection are supplied with Swiss movements: ETA G10.211 which contain 27 gems, ETA 2824-2 which contain 25 gems and frequency rate 28 800vph, 42hours stock run, ETA 2893-2 which contain 21 gems, frequency rate 28 800vph and 42hours stock run.
TNG collection also has watch models which are released in limited edition especially for sportsmen who take part in a World competitions of very hard sports.
TNG production can be observed at the wrists of such a famous sportsmen as ven Coster, Carolijn Brouwer, Guillermo Altadill, Jonathan Mckee, Sebastien Josse, Herbert Dercksen and others.
TNG watch can be bought at the official dealers of TNG brand.