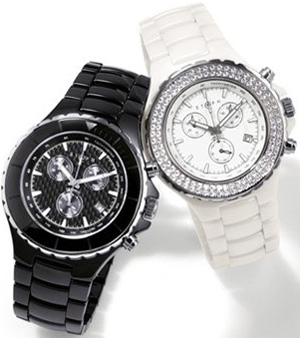 Steph watch company was founded in autumn, 2008. The watches by this brand are considered unique, due to the high quality materials, used for production, and their inimitable design. In a short period of time Steph watches have gained its own position in the world's watch market and have fascinated many people. The right strategy and the unique products, developed by Steph brand, contributed to the launching of several boutiques not only in the motherland but all over the world. Any Steph watch is the combination of the original design and high quality materials, that results in the bright image and inimitable style. While creating its models, the company chooses the main colours – white and black, that perfectly harmonize with any other colours. However, it doesn't mean, that the watch collections do not include the multi-coloured models. The company presents such bright watches in the limited editions. The watches, produced from high-tech ceramic, are characterized by the scratch-resistant sapphire crystals. It is known, that high-tech ceramic is the unique material, it is hard, scratch- and shock-resistant. Steph company obtains such ceramic from zirconium oxide. It is a powder-like material, that gets its shape after the special extreme heating during an exclusive technical process. As a result, the scratch-resistant ceramic obtains the magical glow due to the diamantine polishing. The properties of high-tech ceramic were tested by several methods. This material is also used for the protection of spaceshuttles against the blowing in the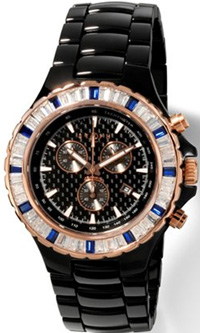 Earth's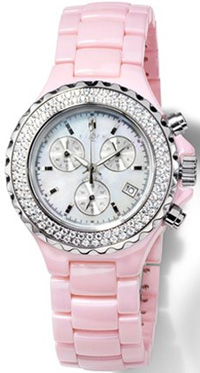 atmosphere. The watch cases are produced from high-tech ceramic, as it is solid and gives a nice feeling to the wrist, it is also skin-friendly and hypoallergenic.
According to the size of a case, from 37 mm to 43 mm, Steph watches are divided into several lines: Basic Small, Basic Large, Basic Summer, Predator, Limited. Basic Small and Basic Large collections include the models of white and black colours. Basic Summer line consists of chronographs, released in the limited editions. The round cases are made of ceramics, the watches are characterized by the ceramic bezels and bracelets. The multi-coloured dials feature three hands, chronograph counters at "2:00", "6:00" and "10:00" positions and date apertures at "4:00" position.
Predator collection includes the chronographs, made of matt and polished ceramic. The carbon dials feature three chronograph counters, three hands and date apertures at "4:00" position. All Steph watches are powered by the quartz movements.
One can wear the comfortable and stylish Steph watches for any occasion. It is known, that a watch can characterize its owner. In this case, Steph model underlines the owner's personality, his refined taste and bright style. Steph watches are preferred by those people, who want to be always in vogue, and who live an active lifestyle.