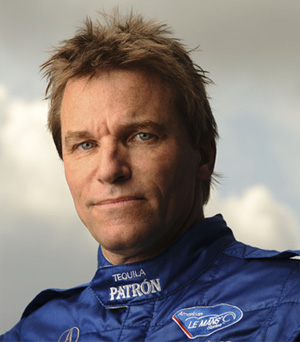 Stefan Johansson is a Swiss sportsman, car racer, participator of World championship in class of Formul 1. He participated in different racing: CART, Sports car racing, Grand Prix Masters and SpeedCar Series. During his career Stefan performed for several prestigious teams and manufacturer in the world such as Ferrari, McLaren, Porshe, Mercedes, Toyota, Nissan, Mazda, Audi and Acura. Johansson has 103 Grand Prix and 12 podiums. He performed his own team in racing on endurance.
Sports, car racing is not the only one interest of Stefan. Besides his career, Johansson is fond of art and design. He is also a talented artist. His design talent reflected on his wristwatches which produces the brand under the name of Stefan Johansson Vaxjo. Watches Stefan Johansson Vaxjo are made in original design solution in combination with innovation technologies. All models of the company develop with requirements of watch industry, it is tasted by COSC. Watches Stefan Johansson Vaxjo from time to time test and on the wrists of different racers. Thus, they test on durability, quality of materials from which it is made, and also stability in different extreme situations. Such tests in car racing is really extreme. Everyone knows that during racing the driver has many vibrations, shocks and abrupt change in altitude, and also temperature. And methods of testing COSC are limited as checked the watch movement at a certain position during certain periods of time and temperature. That is why Stefan decided to test his models during racing and in racing cars, in extreme situations. Besides, testing by COSC is for movements of watches, and watches itself or its details can;t be tasted like this. For example, how to check the straps or buckles of watches, how to determine its quality. According to Stephen, he found the right decision by checking the watches during racing.
The quality of Stefan Johansson Vaxjo watches you can be sure, since passing a calibration and a test, they only prove the fact of high quality. Stefan Johansson Vaxjo model presented in the following collections: Mark VIIIC, Mark VIIID, Mark VIIIE, Mark VIIIF, Carbon Fiber, Diamond Collection.
Mark VIIIC – making this collection, Stefan was inspired with racing Le Mans 24 hours, with which he has only good memories. These memories entered in the base of creating of collection Mark VIIIC, presents models in which present harmoniously combination of design and functionality. Stefan compares such combination with combination of of car and driver. Watches Mark VIIIC embodied the spirit of racing Le Mans 24 hours.
47 mm of case is made from polished or mate steel. Chronographs of this collection are equipped with colored dials, made in different design solutions. Big Arabic numerals, which are on the dials, give original appearance. At the positions of 12 and 6 hours are counters of chronographs, upper of which is small and lower is big. At the position of 3 hours is date aperture, and at the position – logo of the company. Hour markers and hands are covered with luminescent substance and closed with anti reflective sapphire crystal. Watches are complemented with leather, rubber or silicone straps.
Another collection Mark VIIID was created thanks to memories of racer in Goodwood on Ferrari 156. Than Stefan succeed to win in classic car racing. In models of the collection Mark VIIID Johansson managed to combine classic and retro styles. Included in this collection of models - the powerful chronographs, embodied by modern elements. Watch cases are made of stainless steel, and the dials are made of carbon fiber. In positions of 12 and 6:00 are counters to zero, in position 3 hours - the date aperture, and at 9 hours - the logo of the brand. With a black dial harmoniously red line counters to zero and hour markers in the form of small lines, as well as Arabic numerals, marked in white. Complement watch of leather or rubber straps.
Collection of Mark VIIIE was released under the impression racing F1 Grand Prix of Monaco. Models of this collection embody the best memories, reflections in bright colors. Cases of these watches are made of stainless steel and equipped with multi-colored dials with Arabic numerals 12 and 6. All the remaining hour markers are made in different shades of bright color. For some models, the case is decorated with diamonds.
All watches Stefan Johansson Vaxjo are equipped with Swiss Valjoux 7751 movement. All of these models produced a limited number.
Great design, functionality, reliability, and memories of racing and racing victories known Stefan Johansson combined in watches Stefan Johansson Vaxjo.