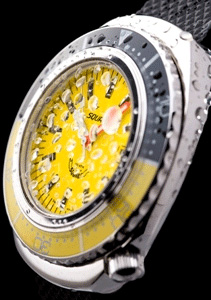 Von Büren was the founder of Squale watch-company. He started to make unique high-quality watches for divers. His love to the sea and diving made Buren to creation such a wonderful watch.
At first the name Squale appeared on the cases of different Swiss watches and only in 60-s of XX century Buren obtained a success. It happened in 1968 when diving competition took pace in Cuba. Squale watches waterproof up to 50 ATM became the winners and became popular all around the world.
70-s were remarked by watches issuing with skeletonised dial and waterproof 1000 ATM.
Squale company also produced watches for other brands. Moreover, it created special watches for skydivers and Italian divers.
During some decades the name of Squale became the synonym of a high quality. The main idea of company's work is "watches should be created unique and their design must be elegant". Squale company is proud of once watches because they think that they put a little part of their faith, skillfulness and experience into each of their creations.
The secret of their success is in their reliability. Squale watch can take part in diving competition and their owners can completely trust them.
Squale company uses only safe materials, thanks to which the watch can bear high pressure and even salt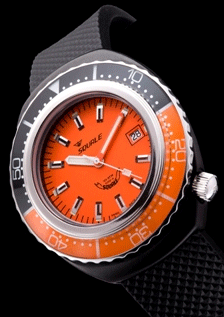 water.
Watch-makers laboriously make watches, carefully processing each detail. Every watch is strictly tested.
Squale watches are supplied with ÅÒÀ movement, which guaranty their accuracy.
Squale watch-company produced the following collections of watches - "Professional", "Leisure". The collection "Professional" has the range of models specially made for professional divers. The cases are made of stainless steel and swinging bezels, crystals are mineral, the strap is made of rubber. The are waterproof 300-500meters. Also there ate some models 1000meters waterproof.
The dials and bezels are made in different colors: black, blue, orange and yellow.
Each model has special strap of suitable color. The cases are made of stainless steel and tightly closed with sapphire crystal of 3,5mm.
The dials are covered with luminous sputtering, after they are hand-varnished in order to protect watch from the sea salt.
"Leisure" is a silver watch collection which is in fashion every time. The cases are made of stainless steel, and covered with mineral crystal. Waterproof is up to 200meters. The bracelets are made of steel. There are also models with rubber straps and 300meters waterproof.
Watches are supplied with quartz movement ETA. Watches made by Squale encloses all traditions of Swiss horology. Squale watches are of high quality, they are reliable and has an exclusive accuracy. You can buy Squale watch in watch-boutiques in different countries around the world and at official dealers of the company.