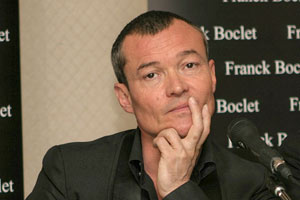 Smalto Timepieces is a watch company which appeared at a world trade in 2010 when the administration of Francesco Smalto Fashion agency were busy with very unusual work. As it is known, Francesco Smalto company produces elegant wear for extravagant and serious men, and Franck Muller produces high-quality and expensive watches.
Francesco Smalto fashion house has not ever produced techniques of any kind or watches. Francesco Smalto started his career at the age of 14 years, when he was making costumes for children playing in theater studio. His own company he founded in 1962 in Paris.
So, in this way an alliance of two famous companies was very unexpected, but very pleasant surprise. It is should be mentioned that a result of their collaboration came out as a very interesting. A new collection of exclusive models – elegant and stylish. The prices of Smalto watch models appeared to be the most amazing. Smalto watch are too than affordable, because there is no such an expensive complications as tourbillons, repeaters and etc. However an affordable price can not be associated with a low quality. On the contrary, Smalto watch are made of high-quality materials, and are supplied with the best Swiss movements.
Today Smalto Timepieces has 16 collections which contain nearly 150 watches. The assortment is renewed twice a year. Male and female models made by Smalto Timepieces are released in the following collections: Taranto, Teramo, Prato, Arezzo, Roma, Venezia, Savona, Panarea, Volterra, Core, Sport, Mechanic, Celio, Allegra, Fiorella and others.
Smalto makes an accent on the design while making its watches, which can perfectly reflect the character and the mood of the owner. The designers of the company well think-out every single detail. Smalto designers create watches, showing their ideas in every element. Usually Smalto models accentuate charm, elegance, lightness and power. An outstanding nature and creative approach is felt in every single model. Cases are made of stainless steel, sometimes it can be gilded. PVD coated steel is also used. The models are decorated with leather or rubber straps, sometimes metal bracelets can be used.
Every model has its own unique particularity. One has an aperture through which it is possible to see the movement, another has some additional elements of design. For example, chronographs has different counters placed near the hour marks, models are decorated with diamonds or Swarovski crystals. Some watches are supplied with nacreous colored dials of different shades. The dials can be supplied with aperture of date. Also instead of hour marks, models can have Swarovski crystals incrustation.
Whoever a watch can be referred, a model always has its unique particularity. Male or female watch are made in classic or sport style. Smalto watch water resistance is up to 50 meters.
Dials covered by mineral crystals and mostly have Roman or Arabian numerals.
Smalto is a fashion brand which demonstrates a perfect quality, wonderful design, which helps to recognize author's style, the style of Francesco Smalto.
Smalto watch is a nice accessorize, which is usually chosen by self-confident people, who want to pay attention of others on one's unique appearance. Everyone who wants can by their own Smalto watch from the official dealers of the company.