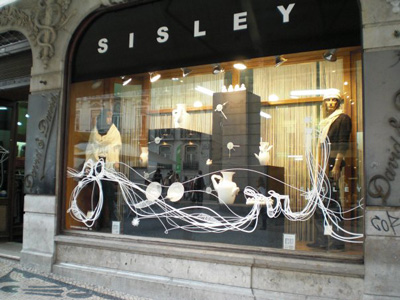 Sisley watch-company was founded in 1968. the same year the products made by Sisley were firstly released: woman's wear "Denim". Elegant, audacious and sexual dresses attracted everybody's attention. At this time the target group of customers was defined.
Italian concern Benetton Group in 1974 having estimated the potential of a newly-made brand decided to by exclusive rights for Sisley's name using, thanks to which Sisley trade mark became wildly-recognized.
At this very time an individual style was chosen. It was absolutely different from Benetton. In Sisley's collections prevailed business style combined with fashion elements.
Year after year Sisley released innovations made in concordance with the latest tendencies of fashion.
Benetton Group was busy not only with brand image correction, but also with rationally organized PR-company.
In a short time Sisley entered the international trade. In 1985 it got an opportunity to develop as an independent company inside the holding.
Sisley started collaboration with some leading specialists in the sphere of design and developed a new strategy of a trade modernization.
In 1996 resuming the results of a successful work, Sisley company changed traditional logo (a golden emblem on a dark-brown background) into a classical logo made in black and white colors (white sign on a black background).
Having changed the logo the style of Sisley brand was also changed. Now the idea of the trade mark was concentrated on all the styles and needs of costumers. Sisley started to produce wear for any occasions: sport, and everyday purpose, business wear and cocktail dress.
Today the company issues not only stylish clothes, but also some accessorizes, which make accents at the style, manners, taste and preferences.
In 2003 Sisley signed the contract with one of the leading watch-producers Sector Group company. The same year was released the first collection of watches.

Sisley's functional accessorizes are localized in fashion sphere, which appeared nearly 20 years ago. Fashion-watch producing was arranged by some leading Fashion Houses. At first the considered watch as a beautiful accessoire which decorates the image of any person. Now fashion-watch are the most popular among others. It can be caused by constantly renewed and every-time change of fashion trends. As a rule , functional accessorizes are renewed every year. A reasonable managing affords to change them in concordance with seasonal demand.
Watch collection are generally presented in classic collections. The models have geometrically right lines and shape and minimalistic decoration as well.
In model range also there are sport-chronographs in a massive case and bright decoration.
High-quality quartz movements are used for Sisley watch making. Stainless steel is used for making cases. Sometimes cases can be gilded. Dial is supplied with analogue and digital indication, protected with mineral crystal.
Sistey watches are decorated with genuine leather straps or straps made of elastic fabrics.
Today Sisley is considered to be one of the most popular European brands. There ara more than 1000 Sisley shops all around the world.