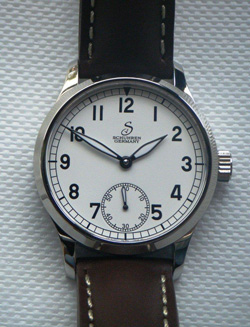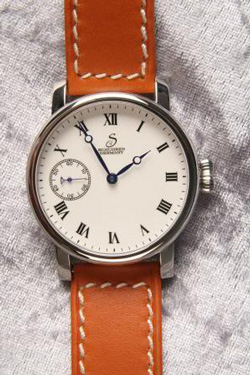 Schuhren watch-company was founded as a family business in 2008 in Stukenbrock, Germany. The name – Schuhren comes form name initial letters of the founders and a word "uhren" - which means "watch" in German.
As any watch-company Schuhren tries to make a unique product which can be different in its high quality and original design.
For Schuhren watch-makers it is very important to know that their owners wear their watches with pride and aware of their quality.
Schuhren watch are created according all the standards of watch-industry, they are tested strictly in different conditions (different temperature and humidity).
Moreover, Schuhren watch passed the tests in a depth and a very bright sun of a desert.
Original models of German brand Schuhren are presented in different collections which can be differentiated only according to their movement.
The Admiral – is an original classic model in a round 24mm case made of stainless steel mat and polished.
White dial supplied with Arabian figures, one small second-hand and two hour-hands. A sapphire crystal with an anti-reflecting coat protects the dial. Real leather strap decorated the watch which is supplied with a manual-wind.
Other classic model made by Schuhren is a model "The Gentleman". It is created in simple elegant style, which let its owner wear it anywhere and anytime he likes.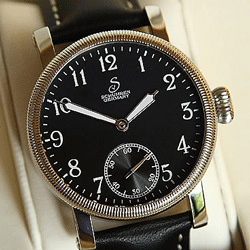 A round case is made of stainless steel 316L, white dail is supplied with Roman figures, two hour-hands and one second-hand which is in "9 hours" state.
Sapphire crystal with a double anti-reflecting coating AR protects the dial. The model is decorated with a ginger-color genuine leather strap. It is also has movement details decorated with Rose Gold.
The Squire – is another elegant model created in the same style as previous one. The case is decorated in " Cotes de Genève" style and made of stainless steel. Black dial is luminous, it has two hour-hands, one second-hand, sapphire crystal anti-reflective coated.
A black genuine leather strap decorated the model. The Squire watch has 48 hours running rime.
It is also possible to find sport models in different collections. Schuhren watches can be booked and bought at official web-page. Personal design is also possible.