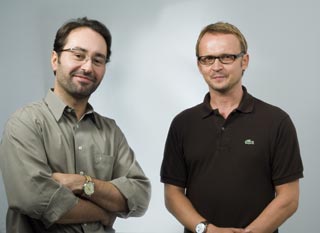 love to watches is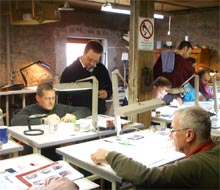 an inherited feeling. In the case of Schäuble & Söhne brand which has been producing watches for three generations it can be said for sure, because they produce exclusive accessorizes for men applying profound knowledge and kills.
The history of Schäuble & Söhne watch company started in 1924, when Carle Schäuble in Bruchzaile (a small German town in the north-west of Baden-Württemberg) opened his own first shop where exclusive goods were sold (textiles, scissors, lighters, binoculars, and watches as well).
It didn't take him too much time to wait till the company become well-known. In 1930 he moved to another large place. The success came when the first watch with logo "Carl Schäuble & Söhne" were sold. More over the clock were modified according to wish of their buyers.
Schäuble & Söhne company from very beginning was specialized on high-quality male watches producing. Each detail in every model has a complex construction and hand-engraving. Each detail is made separately.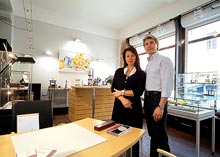 During the years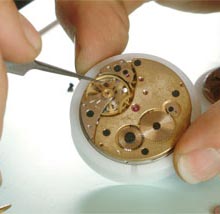 of II World War the range of watches was limited, the production reduced and a fire which took place in the manufacture damaged everything even the office building.
However love to such small masterpiece inspired Carl Schäuble's son Ludwig, and made him reconstruct his father's business.
The brand achieved success in 1947 just having been founded when the first shop was opened in Karlsruhe (Germany, Baden-Württemberg).
Carle who visited Switzerland very often brought Swiss clock and remade it in Pforzheim, but the basic range of watches in Ludwig's shops was presented by Schäuble & Söhne company.
However, only Carl's grandson could find right strategy and develop granddad's business.
Gunter Schäuble constructed, changed and sold exclusive watches in order to pay for once study and manufacture organizing. When he studied marketing he managed to combine his hobby and profession in order to start working at watch-production.
Gunter took place in different horology auctions, his teachers were the best Swiss, Italian and the US watch-makers. Step by step he got closer to making his dream come true – issuing his own watch collection, presented in 2001.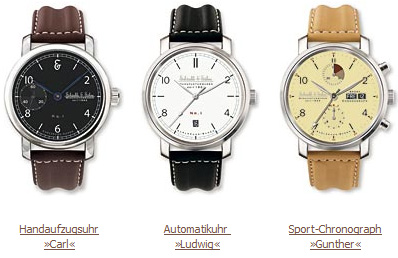 For Schäuble & Söhne company 2005 was a very significant year. It was the time when Gunter Schäuble bought a very rare chronograph, which was the purpose of his acquaintance with Mark Unghansen, who's name is tightly connected with the main works in the history of German horology and design.
It was a fateful meeting, because the conversations and the first ideas of both talented men were the starting point of many new projects.
They started developing new watch collections and new manufacturing movement with a manual winding.
Schäuble & Söhne watches are made at their own manufacture in Karlsruhe and Baden. These models are supplied with mechanic and automatic movement and their issues are limited. The cases, dial pales and movements are made at own manufacture. Leather straps are bought at local companies.
So, as the original models of Schäuble & Söhne watches are hand-made they are produced in limited edition.

Exclusive Schäuble & Söhne watches are presented in two collections – the main models and limited once. At the first collecnion the leading position is given to "Carl", "Ludwig", "Gunther" watches, named in honor of the founder of the company, his son and his grandson.
All of the presented watch-models were designed by Gunther Schäuble and they are the combination of a classic design and the best traditions of horology. The cases of round watches are made of stainless steel, he dials are covered by sapphire crystal with an anti-reflecting coating.
"Carl" model with a black dial, two hands (minute and second) and a small second hand in "9 hours" position. "Ludwig" watch with a white dial, three hands and aperture of date at "6 hours position". "Gunther"sport watch is supplied with classic movement of pocket watch of 20-s with a manual winding and two models left – are supplied with Swiss automatic mechanisms.
There ate different models in the limited collection. These are many sport and classic watches supplied with one or who hands or tourbillon at a position of "6 o'clock", chronographs supplied with three hands, two counters and aperture of date and month, sport models supplied with winding bezel. Also there are some watches issued for 800th anniversary of Baden national emblem.
Exclusive watches Schäuble & Söhne can be bought at the official brand-retailers.