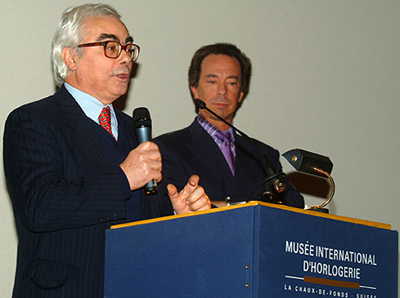 Sbarro watch company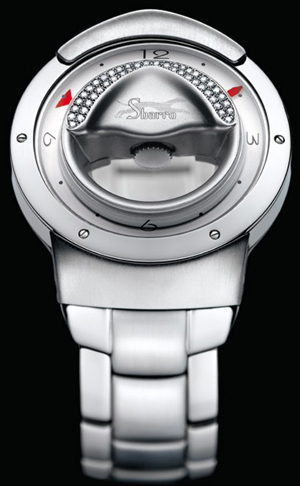 is called in honor of a talented man, a great inventor, an Italian genius Franko Sbarro, who create a wheel without an axis.
His ideas inspired Eric Varone and a group of Swiss watchmakers led by a technician Willy Mayer. They were working at watch-design which could combine innovation and a perfect look.
Sabarro models are good examples of a famous designer Jork Hysek, whos works combine all the traditions of horology and a vanguard style.
The exclusiveness of Sabarro watch is in their unique design and a huge hole in the middle of a dial pale. Such design couldn't be unremarkable. So, the appearance of such watch in a world trade was accompanied with lots of joy, mostly the collectors were very happy with it.
The ideas of talented people were materialized in incomparable Sabarro watch. Watch-makers proved once again that infinite human imagination can astonish and ravish every time.
A good example of it became Sabarro watch supplied with a winding inside the case, which attracted everybody's attention to its unique dial pale. It took too much time to make such watch, because such dial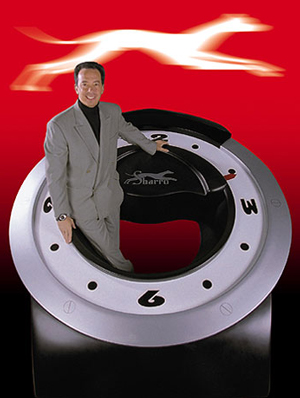 pales are made gradually, which takes extra engineering processes.
It goes without saying that to place the movement into a case with an opened dial pale is difficult because generally it should be in the middle of the watch. In Sabarro watch the movement is placed between the winding and some disks, which are made in a way to provide a thorough watch-work.
These are not the only difficulties which appeared while Sabaro watch were created. The next problem was waterproof supply, which is necessary for sport watches. This problem was also solved by Sabarro watchmakers, those could create special instruments for case making.
Unique design is not the single particular thing which Sabarro watch have. For their making, watch-makers use high-quality materials. Because the can not use all of them in one and the same time, using their combination is the best.
In this case they used a combination of gold, steel and real caoutchouc.
Each model has its own serial number and is soled with a certificate , proving the originality Sabarro's production. All the Sabarro's watch are made in Swiss and are supplied with 30m waterproof and a quartz mechanism.
In Sabarro's collection there is also an original model, which is decorated with diamonds. Here comes the name - "Diamant"
The case and wristlet are made of high-quality steel. The original dial pale is divided in two parts: the surface of dial pale has Arabian figures and inside has a logo the up side of which incrusted with diamonds. Thanks to the unique design and winding inside the case Sabarro watch became easy-recognized.