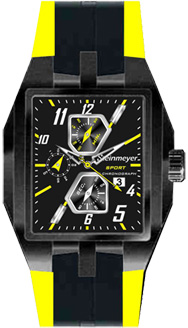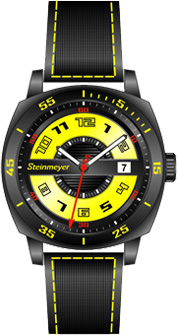 STEINMEYER is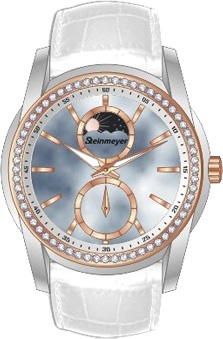 young and dynamically developing German company. In a short period of time it gained huge popularity not just in Europe but also abroad. Watches STEINMEYER choose people who are energetic, active, who love freedom, extreme and activities. Philosophy of German company reflected in design of watches, made in marked aggressive style.
Fresh ideas of co-owner and creative director of the company STEINMEYER Sven König), who was professional biathlete, also played the leading role in decoration of appearance of models. Unfortunately, serious injury, which he got in 16 years, deprived Sven a pleasure to do sports. König began to do another business – design, which attracts him as stronger as sports. He studied in High school of design in Pforzheim, and got education, he began to work in sphere of automobile design. Several years Sven worked as independent consultant in design bureau in one of famous German companies, which made sports cloths. In several years, he together with partners opened watch company. Company got its name in honor of Sven's first trainer, who played a great role in his life and inculcated love to sports. Sven never hided that watches are his passion. "It is accuracy and perfection of technology, and this two quality, as a person, gave not a year to professional sports, I value very high. Besides, sports watches present wide range for realization creative ideas of our designers", - marks Sven.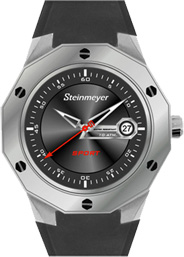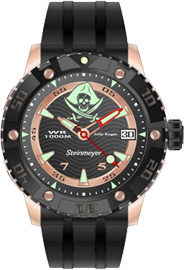 König gathered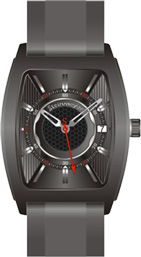 a command of best designers with an aim to create unique, functional, perfect and available models. General stylistics of watches marked with colors of cases, straps and bracelets. Special place in collection of the brand got models with mate and glossy PVD black cases and models with cases in which combined black and rose colors PVD covering. Smallest details of cases marked black color. As for design, the simplest models interest with three hands, decorated engraving bezels or barrel shaped cases with steel screws.
Like to every watch company, for STEINMEYER it is important point of view that watches should mark the inner world of its owner and to be undivided part of his life, as cloths and even music, which he prefer to listen, follow its owner everywhere. Only comfortable, durable watches can play its role. That is why Sven pays great attention to every detail of watches. It should be noted, that models of STEINMEYER, thanks to its universal design, provided in all cases of life: it harmoniously combines with sports cloths of every kind of sport: snowboard, surfing, mountain ski, etc. It looks beautiful with simple sports and everyday cloths.
Watches STEINMEYER are equipped with only necessary functions, in its design can't be find any excess elements. Rich range of collections will let you to make your own choice. Watches STEINMEYER in rectangular, round, square, barrel shaped cases – it is durability, accuracy, non standard design. Collections of watches differ from each other with stylish thematic engraving on the back case, dedicated to on of sports: hockey, soccer, windsurfing, snowboard, basketball, motocross, mountain ski, bike cross, yacht sport, figure skating, box, skydiving, tennis, etc.
Perfect watches STEINMEYER you can buy through official dealers of the company.