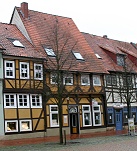 The watch company Schaumburg Watch - Lindburgh & Benson was founded in Rinteln, which is located i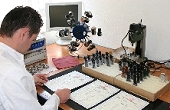 n Germany. All the watches, which are made by this German company, are distinguished by reliability, accuracy and, of course, quality. The company is known for its chronometers with 1000-2000 m water-resistance. Schaumburg Watch - Lindburgh & Benson - one of the some watch brands in Europe, which can check the water resistance and pressure of the watches in their own company. All Schaumburg Watch - Lindburgh & Benson watches are tested. There are some models that have the double-test. Every watch of the German brand has its own number. Since 1998, the watches with the design of the new company's owner have been available. The aim of the Schaumburg Watch - Lindburgh & Benson company is to produce the high quality watches which are up to the quality standards of the traditional watchmaking.
All parts are manufactured in their own factory. The watchmakers are working on each model for a long time, because all details are carefully treated and then inserted into the watches. Every polished and engraved bridge of the movement has its own identification number.
"AQUAMATIC BLACK & BASE CHRONOMETER" - the watches were designed for the professional divers. The case of the model is made of steel with PVD coating and is covered with 4 mm sapphire crystal. Water-resistance of the watches is up to 1000 m. There are versions of the model with the leather strap and the bracelet made of steel.
"AQUAMATIC II COSC CHRONOMETER & BASE" - on this model the watchmakers worked for 7 years. The watches are designed for the professional divers. The case is m

ade of brushed steel that can withstand water pressure up to 2500 meters. The AR coated sapphire crystal, the hands and the ind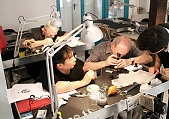 exes are covered with luminescent coating. The water-resistance of the watches is up to 2000 m.
"SQUAREMATIC CHRONOGRAPH" – the case of the chronograph is made of brushed steel and has sapphire crystal treatment. The watches are equipped with the Swiss automatic movement.
"CERAMATIC C.O.S.C. CHRONOMETER & BASE "- the case is made of stainless steel, the ceramic dial, sapphire crystal treatment. Power reserve - 38 hours. The model has the mechanical movement with automatic winding.
"FlighTanium black - Marine - Art Nouveau" - the model of the watches has the black dial, the titanium case is covered with the special black coating. Sapphire crystal lets us see the work of the open movement.
"Classoco" is the model, which is made of 18K gold, the silver dial with double sapphire crystal is hand engraved. Water-resistance is up to 50 m. The watches are equipped with automatic movement ETA 2892. The strap is made of alligator. The model was released as a part of limited edition – only 10 items.
In 2010 the company produced the watches "24h Regulateur". The case of the model is made of steel, sapphire crystal. At the index "3" there are the hour-indexes which needs 24 hours for a complete rotation instead of twelve required by a conventional wrist watch.
You can buy the Schaumburg Watch - Lindburgh & Benson watches at the approved distributors in many countries all over the world.