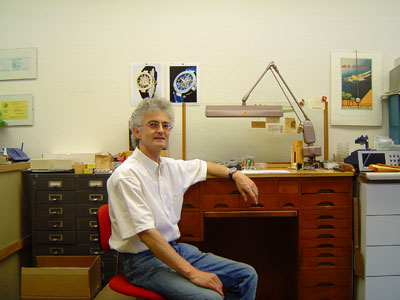 The tradition of the creation the watches of the legendary quality, the skilled craftsmanship and design was for the centuries the main characteristic of Switzerland. Swiss precision of the watches was perfected by generations of watchmakers. The Ryser Kentfield company has dedicated itself to the creation of the perfect quality watches, which, from the beginning to the end, are made by hand using the high quality materials.
The watch company Ryser Kentfield was founded by Urs Ryser, a native of Biel, Switzerland which is home to such illustrious Swiss watchmakers as Rolex, Cartier, Omega and Rado. Urs Ryser was surrounded by watches and that became the reason for him to choose the watchmaking as a profession. At sixteen, he entered the Cantonales Technikum, which specialized in training watchmakers since the 18th century and considered to be the center of the industry today. After the graduation he joined the Rado Watch Company where he further refined his abilities for 2 years.
In 1990 Ryser emigrated to the U.S. and opened his the first own store in California, which he called «Swiss Timepieces». That name, which emphasized the presence in the store watches of the Swiss quality and precision, attracted customers. All wrist watches of the Ryser Kentfield brand are assembled manually and made of in the high quality stainless steel. The watches are carefully polished to shine silver and covered with the PVD coating. All models of Ryser Kentfield are water-resistant up to 50 m. The dials have the sapphire crystal treatment, and the straps are made of leather. The watches are equipped with the caliber ETA 2824-2 movement.
In 2005 the company presented one of its first watch models in Las — Vegas. The 40 mm case of this skeleton-watch is made of stainless steel.
The watches of Ryser Kentfield differ from others in their perfect quality and high precision, which allows the owners to enjoy their flawless characteristics.
You can buy the watches of the Ryser Kentfield brand in the company's stores, as well as through approved distributors.